FROM CNN's Jack Cafferty:
Sarah Palin spoke to Asian bankers, investors and fund managers in Hong Kong - in what's being billed as her first speech outside North America. The former Alaska governor and Republican vice presidential nominee spoke for about an hour and a half. The speech was closed to the press.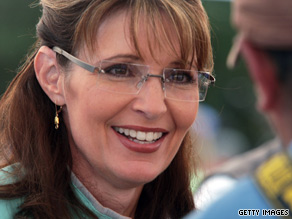 Reports that leaked out say Palin addressed everything from Reagonomics, China and human rights, Tibet, the Asian and American economies to international terrorism, energy independence, family - and fishing and moose in Alaska.
In her speech, Palin reportedly said she was talking as "someone from Main Street, U.S.A." and highlighted her concerns about massive federal bailouts and growing government deficits.
She criticized President Obama's plans to give the Federal Reserve power to monitor risk to the financial system, questioning if that is "meaningful reform."
The reviews on Palin's speech are mixed - some people say she was articulate, well-prepared and compelling.
Others got up and walked out in the middle of it, calling her speech boring.
It was seen as the first step in Palin's attempt to boost her foreign policy credentials-which could use a little boosting.
Keep in mind: Palin never even had a passport until 2007. And when she came under criticism during the presidential campaign for her lack of foreign policy expertise, she attempted to make up for it by saying she could see Russia from her home state of Alaska.
Here's my question to you: If you were a money manager, would you make investment decisions based on what Sarah Palin says?
Interested to know which ones made it on air?