FROM CNN's Jack Cafferty:
President Obama may not be leaving the country this week - but it's likely his global support will be put to the test during the meetings of the U.N. here in New York and the G-20 in Pittsburgh.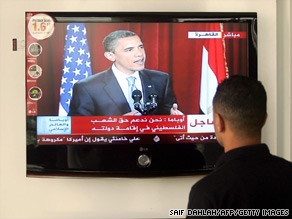 As Mr. Obama meets with world leaders and addresses issues like climate change, the global economy and the ongoing conflicts in the Middle East - there's no question that this president is better liked overseas than his predecessor, George W. Bush.
A recent Pew survey finds significant support for President Obama still throughout Africa, Europe and Latin America. Attitudes toward the U.S. are also more favorable in some mostly Muslim countries.
The survey shows America's image has improved markedly in most parts of the world, reflecting global confidence in Barack Obama. In a lot of places - opinions of the U.S. are as high as they were before Bush took office.
But the question may be: Does it really matter? What's changed on the international stage as a result of President Obama's increase in popularity? The answer is - Not a whole lot...
North Korea, Iran, Russia, China, Afghanistan and Iraq all still present the same challenges to this country as they did before Mr. Obama won the election.
And - just because other countries may like our president - it doesn't always mean they're going to support his foreign policy decisions.
And the arrest of suspects in a terror plot this past week inside the U.S. indicates the terrorists haven't suddenly decided to lay down their arms and become our friends.
It's nice to be liked, but being president of the United States isn't necessarily about winning a popularity contest overseas.
Here's my question to you: Is it more important for an American president to be liked or feared outside the country?
Interested to know which ones made it on air?
Carla from Alabama writes:
It is better to be loved than hated, Jack. Our country has seen the results of having a president whose my-way-or-the-highway attitude and refusal to even converse with other world leaders caused him to be despised in the international arena. We now have a president who listens to what other world leaders have to say, and who accepts responsibility for his actions. I hope the world continues to like Obama. Wouldn't it be nice to have real allies again?
Pete from Augusta, Georgia writes:
Jack, In today's dangerous world, we need to remember the words of Don Corleone in The Godfather (paraphrased: "Your enemies will become my enemies. And then, they will fear you.") A president who is liked in the global arena only emboldens adversaries to challenge him, while fear causes hesitation in consideration of severe consequences for provocative acts. Likability fades quickly but fear lingers.
Gordon from New Jersey writes:
Both, although I'd rather he be respected than feared. Bush wanted to be feared, but his fiasco in Iraq destroyed our military credibility. However, there has been a big change since Obama. Pakistan really is fighting the Taliban now, whereas before they were merely pretending to. What's scary, is all this talk of pulling out of Afghanistan just as the Pakistani's show up to fight on our team.
Jan from Punta Gorda, Florida writes:
I think a little patience is called for when it's said that nothing has changed just because some foreign countries "like" President Obama. Like most of us citizens, they are just getting to know him. Also like us, they may like the "change", not just in skin color but also in attitude. However, we all are waiting to see if he is a man of integrity that we can trust and it takes time to build trust.
Diane writes:
Jack, How correct you are! The president is not supposed to win a popularity contest, rather gain respect. If fear is part of what it takes to get respect, so be it.
Leslie writes:
Jack, "Like" is a start. Bush was neither feared nor liked. Let's get an international consensus, get the world back on our side again and then kick butt.