FROM CNN's Jack Cafferty:
Military commanders on the ground in Afghanistan are about to force President Obama to do something he doesn't want to do - make a decision. The day of reckoning has been coming for a while now - as the U.S. death toll continues to rise, the Taliban strengthen their hold on ever-increasing parts of the country, and the effectiveness of the Karzai government when it comes to troops and security remains very much in doubt.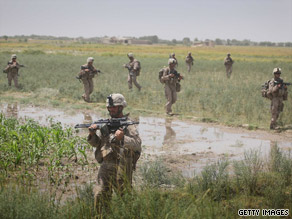 History suggests Afghanistan is a tough nut to crack. And to think you can do it on the cheap with limited budgets and a limited number of troops is just plain ludicrous.
In effect - the White House is being told by the people fighting the war: either come up with a strategy that has a chance of working and commit enough troops to make it happen - or resign yourself to the same failure that all foreign invaders of Afghanistan have ultimately come face-to-face with.
It's time for the administration to stop equivocating. First we heard a decision on troops is "weeks and weeks" away, then we were told there were no plans for additional troops for Afghanistan.
But the people fighting the war say without them - there are no plans for victory either.
Since World War II - we have failed to achieve victory in Korea, in Vietnam, in Iraq... And the polls indicate the American people are not eager to commit the resources that might be necessary to win this one either.
Here's my question to you: What should President Obama do when commanders are saying the mission in Afghanistan will fail without more troops?
Interested to know which ones made it on air?
Jane writes:
First define victory. Then define the strategy that will achieve it. Then define the resources needed to implement the strategy. 1,000 doctors and teachers might be more effective than 50,000 infantrymen. But it depends on what you are trying to achieve.
Brian from Delray Beach, Florida writes:
Give all the generals some nice medals and make them spend some time with the loved ones of troops killed and a few months working at a VA hospital. It doesn't matter if we succeed in Afghanistan or Iraq except to those who are profiting from the wars. Terrorists are criminals who plot to murder people. Terrorism is a police problem.
John writes:
Obama is showing he is an indecisive politician. No plan for health care reform for months until it's too late, no decision on troop levels in Afghanistan. Maybe we should have listened when during the campaign, his Senate voting record of abstaining was brought up. Sometimes sound bites are correct. Buyer's remorse is setting in very hard.
Lynn from Maine writes:
Are you kidding? This isn't Korea. We never had a 9/11 back then. We have just arrested a bunch of terrorists from Afghanistan. We are going to have smaller attacks all over this country, not as grand as 9/11. I don't like war but in this case I say we have to go for it and bring al Qaeda under control.
Terry from Indiana writes:
The U.S. military should destroy the poppy fields on their way out of Afghanistan. Without drug money, the Taliban may be willing to give up bin Laden for the multi-million dollar reward.
Dave from Lake Mills, Wisconsin writes:
Give the U.S. military a clear mission and they will accomplish it. Give the U.S. a muddled, unclear or restricted mission and they will achieve exactly the mission they were given… Give the military an unrestricted mission to take down al Qaeda and they will be gone. Short answer: give the commanders on the ground exactly what they ask for or pull out totally.