FROM CNN's Jack Cafferty:
Ask the president and he'll tell you it's the news media's fault that the country has descended into a screeching, yelling, nasty batch of rudeness and lack of manners.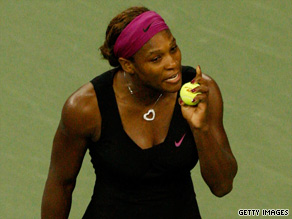 Serena Williams argues a call by the line judge which led to her disqualification during the Women's Singles Semifinal match of the U.S. Open.
President Obama appeared on five Sunday morning talk shows - which is a lot even by this visible president's standards. The idea was for Mr. Obama to continue selling his health care plan to the American people, which by the way, some Republicans now say is dead.
But during several of these interviews - although President Obama insisted he wasn't doing media-bashing - he seemed to do media bashing.
Right here on CNN, the president called out the three cable news networks, and said the easiest way to get on any of them is to "say something rude and outrageous." He said if people are polite and sensible and don't exaggerate about their opponent, it's harder to get noticed by the press.
President Obama said that instead he'd like to see "all of us reward decency and civility in our political discourse."
The president went on to say news organizations can't get enough of the conflict, calling it "catnip to the media." He says in the 24-hour-news cycle, the extreme elements on both sides get the most attention. And he's right.
Just last week in the Cafferty File, we reported on celebrities from Kanye West to Serena Williams to Congressman Joe Wilson behaving badly; and about what their uncivilized behavior says about the rest of society.
Here's my question to you: Are the news media responsible for the recent outbreak of rude behavior across America?
Interested to know which ones made it on air?