FROM CNN's Jack Cafferty:
Nearly seven million jobs have been lost since this recession started - but it turns out those Americans out of work aren't the only ones hurting. CNNMoney.com reports that many people still lucky enough to have jobs are unhappy and unmotivated.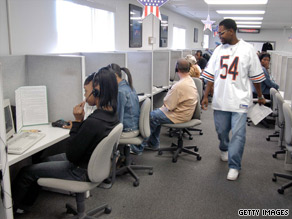 For one thing - raises, bonuses and other incentive programs have all but disappeared in a lot of places. There have been cutbacks in things like health insurance and retirement plans. And in many places, fewer employees are left doing more work. In many cases, for less money.
One recent survey shows 40-percent of employees at companies with layoffs say productivity has taken a hit. Of those, two-thirds say morale is hurting and people just aren't as motivated anymore.
Some employers say there's more "slacking off" lately, with employees spending more time surfing the internet or talking on their cell phones than they did when the economy was stronger.
Worker morale is a big part of running a successful business. If a company gets a reputation for being a bad place to work, they then have problems attracting employees once the economy turns around. As a result, they may not be ready to meet increased demand when things improve.
One expert says that employee morale is the "leading predictor of future growth and profitability." She predicts that at some point employers will have to start giving more incentives to their workers.
Here's my question to you: Are you as happy with your job as you were a year ago?
Interested to know which ones made it on air?
Kriss writes:
After working way too many years at jobs that lit up only a few little places in my soul/psyche, I hit on a dream job. Yes, it's less money, but boy does it meet my other needs 100%. I work at a golf course full time, year round, play for free on all 6 courses we manage, eat for half price, get merchandise at a 40% discount, and go to work every day to a beautiful, peaceful place and happy people.'
Randy writes:
No, not particularly happy, but what choice does anyone have? Employers everywhere are giving their workers the shaft with longer hours and less compensation because they know in this market they can get away with it - if you aren't willing to be treated like disposable chattel, there are thousands out there who would love the chance.
Kelly from Atlanta writes:
Happier, Jack. As of one year ago, I was unemployed. In fact, I have to admit I have been so grateful for the opportunity to have a job again that I go above and beyond for my new employer. I spent an entire year feeling absolutely worthless and depressed, sending out literally a thousand resumes or more. Working fills me with pride and an absolute sense of purpose. For those still struggling, keep the faith!
Derick from New York writes:
I'm very happy to still have a job, Jack. These are dark days for sure, but I have confidence things will get better. In the meantime, I try to remember that adversity is an opportunity. I know it sounds cliche, but every day that things are a little slower is a day I have a chance to present ideas to management and prove that I'm committed and capable of thinking about the big picture.
Susan from Arlington, Virginia writes:
Jack, No, I'm not. Not many are. Compared to last year, I'm making $50K less. My job function has changed to one that I don't particularly like or enjoy. But I remain grateful every day that I have a job at all, and I keep in my thoughts those who do not and hope that it will be better for all of us in the very near future.
Jay writes:
Hello no! Cafferty, can I have yours? I can ask questions all day long, and really, that's all it takes.