FROM CNN's Jack Cafferty:
Homeland Security ought to be embarrassed by the way its spending stimulus money... with the administration even coming under fire from fellow Democrats on this one.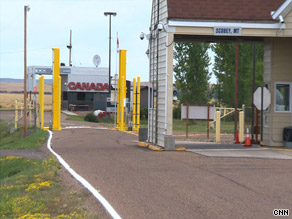 Turns out they're not following their own internal priority lists when deciding which border checkpoints get money for renovations. Instead - they're using a secretive process potentially influenced by politics. Just like President Obama promised during the campaign, right?
This translates to spending millions of dollars at tiny checkpoints... and skipping over busier, high-priority areas. One example is a $15-million dollar project in Whitetail, Montana where only 3 people cross a day.
This is insane. President Obama continues to promise transparency when it comes to the spending of economic stimulus dollars, but this is far from the openness the American people were promised.
Democratic Senator Byron Dorgan of North Dakota says the department is treating the stimulus plan like a "bottomless pit" of taxpayer money, and that with the country deep in debt "this is not a smart investment."
Now, of course, since this all came out, Homeland Security Secretary Janet Napolitano is promising not to start any new border construction projects, and review how the projects were chosen. She says once the review is done, she'll make "all information, not involving national security concerns, public."
But it's kind of late for that. Even if she releases some information, it probably won't change much, since the department has already signed many construction contracts - like the $15-million dollar one in Montana. She should be fired.
Here's my question to you: What does it say about transparency when Homeland Security has secretly approved $15 million for a border checkpoint where only three people cross a day?
Tune in to the Situation Room at 5pm to see if Jack reads your answer on air.
And, we love to know where you're writing from, so please include your city and state with your comment.