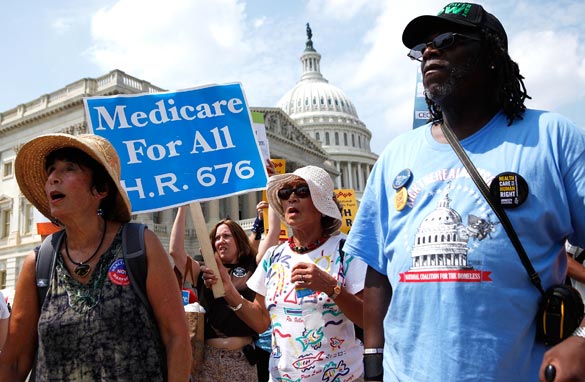 (PHOTO CREDIT: GETTY IMAGES)
FROM CNN's Jack Cafferty:
The long-awaited health care proposal from the Senate Finance committee is finally out; and in it, the Democrats insist the $856 billion bill would not add to the federal deficit.
That's a claim we've been hearing a lot these days... with President Obama promising he won't sign a bill that adds "one dime" to the deficit.
But a lot of people have a hard time believing that, especially since there haven't been many specifics on how the country will pay for this nearly $900 billion plan over the next 10 years.
One potential source of revenue the president mentions is that the bill would get rid of "hundreds of billions of dollars in waste and fraud" in the Medicare program. Really? Details, please...
If there's really so much to be saved from Medicare - why wait? Why not start now? Here's how a recent editorial in the Washington Post described it:
"When politicians start talking about paying for programs by cutting 'waste and abuse,' you should get nervous. When they don't provide specifics - and when the amounts under discussion are in the hundreds of billions of dollars - you should get even more nervous."
The president still needs to give specifics about taxes and spending cuts, and where the money will come to pay for this thing beyond 10 years.
Meanwhile congressional Democrats are admitting that they're having a hard time meeting the "restrictions" the president laid out - including his limiting the price tag to $900 billion over 10 years.
Here's my question to you: When it comes to paying for health care reform, do you think it's possible to "eliminate hundreds of billions of dollars in waste and fraud" from Medicare?
Interested to know which ones made it on air?
Denis from Upper Saint Clair, Pennsylvania writes:
Every political hack has decried waste and abuse in Medicare for decades. Of course, they have never pointed out where it is or how to fix it. Ask any senator or congressman what they have done to solve the problem.
Steve writes:
Absolutely. I have had this explained to me by insiders in the industry, people who work with Medicare every day. Subsidies to insurance companies alone will go a very long way. Medicare Advantage should be eliminated. Electronic forms, believe it or not, would save huge money. It's not clear if the bill would cover the ability to use its size to negotiate with pharmaceutical companies, but this would save enormously. And none of what I just said even touches what better fraud protection would save.
Dave from Altoona, Pennsylvania writes:
If they've already identified it as waste and fraud, why isn't it being eliminated now? And why aren't those responsible being fired or prosecuted?
Dave writes:
Absolutely. I used to own an ambulance company and saw a lot of fraud and abuse from my competitors. Medicare estimates 1 in 10 ambulance rides in this nation is fraudulent. I reported fraud to the Office of Inspector General back in March 2006, complete with affidavits and direct evidence of illegal contract prices. They are so backlogged that still nothing has been done.
Ed writes:
Not possible, waste and fraud only hurts the taxpayers. We know how efforts to stop that end.
Barbara writes:
As a health care professional, I can tell you that the amount of all waste and fraud in our health care system is astronomical. Documentation is all that is needed to bill for just about anything, and I can assure you, the fraud is in the documentation. Private practices with their own lab and pharmacy have what is basically a blank check as they can and DO change results to accommodate billing practices. Some of you out there know what I mean... it is shameful.