FROM CNN's Jack Cafferty:
Former President Jimmy Carter says racism plays a major role in the recent opposition to President Obama. Carter says part of this "intensely demonstrated animosity" is based on the fact that the president is black.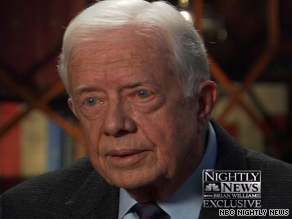 Former President Carter tells "NBC Nightly News" that racism has surfaced in opposition to President Obama.
Carter says that racism is bubbling up among many white people all around the country because they think African-Americans aren't qualified to lead. he calls it "an abominable circumstance."
The former president also says racism was at play in the recent outburst by Republican Congressman Joe Wilson of South Carolina, who called President Obama a liar. Some say a white president would never be treated this way.
But critics say all this is nonsense. The head of the Republican National Committee, Michael Steele says President Carter is "flat-out wrong." Steele, who is black, says the opposition isn't about race, but rather about policy. He calls these charges of racism a distraction by Democrats to shift the debate away from health care reform.
Then there's Rush Limbaugh - he talks about how race rules all in what he calls "Obama's America." The right wing radio host suggests that race is at play in nearly every aspect of society today... including the story of the white kid who got beat up on an Illinois bus by black students.
Limbaugh also says racism is behind the media's treatment of Kanye West after his stunt at the video music awards, which Limbaugh considered relatively mild behavior.
Here's my question to you: Does racism have anything to do with the opposition to President Obama?
Interested to know which ones made it on air?
Dave from Gainesville, Florida writes:
Jack, I'm a left-leaning member of a large, conservative, old Southern family, and I see and hear from people daily who do not support our current president. I can tell you that the racial component to the opposition is significant, even if liberalism is the primary foe. I have been battered by it, subtly and overtly, since the president began campaigning for his job, and I think Pres. Carter is on the mark, even if many of us deny it's the case.
Jerry from Pennsylvania writes:
I live in rural Harlansburg, Pennsylvania, and I constantly hear racist remarks about Obama. Several people have told me they hate him because he's black.
Chuck writes:
Race has nothing to do with it. The issue is specifically about what is right and what is wrong. The policies Obama chooses are not good for this country. We need less government, not more. This is what makes him a bad president, not the color of his skin.
Reed writes:
I am a southern-raised boy, and know that most of these people are lying. From first-hand experience, I know what they say behind closed doors. I am saddened that people are fooled by such covert tactics, disguised in a political shroud of distraction. Time could very well prove Obama wrong, but for now, he has been left with an unsolvable problem... and so they will crucify him for not being able to clean up the white man's mess, making him the scapegoat. It's a 21st century lynch mob using politics and rhetoric as a noose.
Kate from New York writes:
To some extent, yes – but not as much as some liberals make it out to be and not as little as some on the right pretend it isn't.
J.D. from Texas writes:
Lily white tea parties… Didn't anyone notice? That said enough!
Lloyd from Montana writes:
I just attended a tea party. I saw more racial hatred than I have seen in the last 40 years. I thought I was in Macon, Georgia in the 1960s. The only thing missing were the dogs and fire hoses. I fear this country has learned nothing.