FROM CNN's Jack Cafferty:
Former President George W. Bush wasn't short of opinions when it came to other politicians' shortcomings, according to a new book by a former Bush speechwriter titled "Speech-less: Tales of a White House Survivor."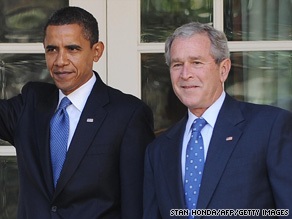 Matt Latimer writes that Bush always believed Hillary Clinton would be the Democratic presidential nominee, and said of her: "Wait till her fat keister is sitting at this desk." Except he didn't use the word "keister."
After one of then-Senator Obama's speeches criticizing the Bush administration, the former president said of Obama, "This cat isn't remotely qualified," adding "this guy has no clue."
As for the now-Vice President Joe Biden, Bush said quote "If B.S. was currency, Biden would be a billionaire."
And the former president didn't spare his fellow Republicans either. Latimer writes Bush wasn't too impressed with Republican nominee John McCain.
When Bush was told McCain couldn't get enough people to show up at a planned joint appearance in Phoenix - McCain's home state - Bush said: "He couldn't get 500 people? I could get that many people to turn out in Crawford."
As for McCain's VP pick, Sarah Palin, Bush said: "I'm trying to remember if I've met her before. I'm sure I must have. What is she, the governor of Guam?"
Bush also told Latimer at one time: "I redefined the Republican Party." That's probably true to some extent and may explain why McCain lost and the Democrats now control both houses of Congress.
Here's my question to you: Does it surprise you if former President Bush talked trash about other politicians?
Interested to know which ones made it on air?
T. writes:
Yes, former Pres. Bush redefined the Republican Party. I am a Bush Democrat. Thanks to his administration and the Republican Congress, I can not think of ever voting for Republicans again. Just look at them now: the party of nope, denial and lunatics.
Harry from Tampa writes:
This is how a completely unknown and completely meaningless person can get his 15 minutes of fame. The author chronicles statements and positions that anybody would say in private moments, but because it comes from George W. Bush, they must be reviled and ridiculed. The author will never again hold a position of trust.
Bob from Morristown, New Jersey writes:
The only thing "W" could do to surprise me would be to utter a cogent, grammatically correct sentence, or pronounce nuclear correctly. Some people just don't know what they don't know. When I looked up clueless in the dictionary, it was Bush's picture I saw.
Will from Bend, Oregon writes:
The surprise is only in the seemingly endless depths to the former president's lack of awareness and tact.
A. writes:
I find it amusing that the guy who can't even put a sentence together thinks that Obama isn't qualified.
Phil writes:
Jack, Bush isn't smart enough to come up with those clever lines all by himself. The author has to be making this stuff up so he can sell some books.
Dan writes:
No, it doesn't surprise me, Jack. Good for Bush! He took 8 years of hearing nothing but trash from the liberal media and people like you. I can't wait to hear what Bush says about you, Jack. I suspect it could be classified as premium trash!