FROM CNN's Jack Cafferty:
The House may formally criticize Joe Wilson - the congressman who yelled "you lie" at President Obama during his health care speech to Congress last week.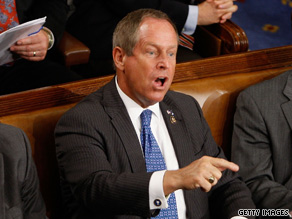 Rep. Joe Wilson shouts, "You lie!" after President Obama denies the health plan would cover illegal immigrants.
Democratic leaders are deciding whether to bring a resolution of disapproval to the House floor. It wouldn't be a formal reprimand or censure - but would put the House on record as condemning Wilson's behavior.
Republicans say Wilson already apologized for his outburst... and the president accepted. They say Democrats are just wasting taxpayers' time - instead of focusing on issues like health care.
Even one top Democrat - Congressman Barney Frank - isn't sure the resolution is such a good idea. Frank says it sets a bad precedent to put lawmakers "in charge of deciding whether people are jerks."
House Speaker Nancy Pelosi initially said she didn't plan to take the issue any further, but other Democrats argued that Wilson's behavior couldn't be ignored. For his part - Wilson already said he would refuse to apologize on the House floor.
Meanwhile some of Wilson's supporters say if Democrats go forward with this resolution, it will only help him back at home in South Carolina, where he's up for re-election. They see it as yet another chance to raise money and rally the base behind him.
Both Wilson and his Democratic challenger have raised more than $1 million since he called the president a liar.
Here's my question to you: What should the House do about Rep. Joe Wilson, who called President Obama a liar?
Interested to know which ones made it on air?
Jeanie (a social worker) from Wilmington, North Carolina writes:
Since Mr. Wilson's mother did not teach him manners, I guess strangers have to. I think it is time to call a jerk a jerk in public and let future jerks know that presidents should be given respect. He is a terrible role model for our youth and his behavior encourages the violent amongst us.
Sue writes:
Absolutely nothing. He shouted out, he was wrong, he recognized it, apologized for it and that should be that. Democrats are just angry it brought the issue of health care for illegal aliens to the forefront.
David writes:
Joe Wilson's uncivil and childish, loud mouth are a symptom of the dysfunction that has taken hold of our congressional leaders and the American people are sick of it. Shame on Rep. Wilson and shame on anyone who supports or condones his actions. Will Congressman Wilson take off his shoes and throw them at the president the next time?
Cary writes:
Jack, I'm glad you brought this point up. Wilson not only needs to apologize but he also needs to retract his videos and comments from YouTube and his public signing of his photo during his outburst. His apology is two-faced and not an honest one. Sure, some people may disagree with the president and that's fine, but respect is necessary at all times during a speech like this.
Kim from Atlanta writes:
No! We can't just move on as if it was an accident. This is the president and the first black president at that. Obama had to be gracious, but I do not. It was disrespectful and it was a deliberate calculated attempt to demean our first black president in front of the whole world. Off with his head, I say.