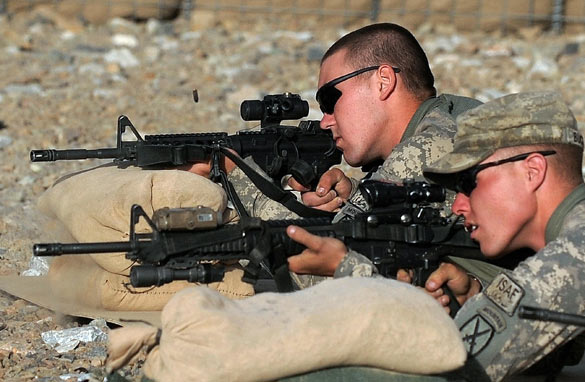 (PHOTO CREDIT: GETTY IMAGES)
FROM CNN's Jack Cafferty:
You knew this was coming… the Chairman of the Joint Chiefs of Staff says it will probably take more U.S. troops to win the war in Afghanistan. Can you spell "surge"?
Admiral Mike Mullen told the Senate Armed Services Committee today that he doesn't know how many more troops are needed, but "it's very clear to me that we will need more resources" to carry out President Obama's plan to fight the Taliban.
Top Democrats have already said they're opposed to sending more troops. Committee chairman Senator Carl Levin says the U.S. should first be sure that Afghan security forces are trained and deployed.
But Republicans say that the U.S. could repeat the mistakes made in Iraq by not committing enough troops. Senator John McCain says, "I've seen that movie before."
The Obama administration has been kind of vague about what happens next, which may be so they can buy time for other priorities like health care. They say no decision on troops is expected "for weeks and weeks."
In the meantime, the troops that are there are being killed at a greater rate than ever before and could no doubt use the help. 51 U.S. troops died there last month - more than in any month since the war started.
At home - public support for this war, which will soon enter its ninth year, is fading fast. A new CNN/Opinion Research Corporation poll shows only 39-percent of Americans favor the war - the lowest percentage ever. The number is down from 53-percent as recently as April.
Here's my question to you: Should the U.S. send more troops to Afghanistan?
Interested to know which ones made it on air?
George writes:
Yes, they should. If only to protect all the women and children there from the monsters who use religious extremism to victimize the ones who can't protect or defend themselves.
Larry from California writes:
We need to exit Afghanistan at our earliest opportunity. If a short-term increase in troop strength hastens that day, I support it. Right now, I'm seeing too many parallels with Vietnam. I think a Taliban/al Qaeda partnership in Afghanistan is a bigger problem for Russia and China than it is for the U.S.
Ingrid from New York writes:
The U.S. should only send troops if there is absolute clarity that it will help accomplish the original mission for going in there: getting Osama bin Laden and his cronies. The U.S. did not go in to get rid of the Taliban (as wonderful as it would be to get rid of them), did not go in to stop drug trafficking (as wonderful as it would stop the poppy cultivation), did not go in there to democratize them (as righteous as that goal may be considered) and certainly did not go in there to support the current president (if he is actually the president).
I. from Rocky Mount, North Carolina writes:
If the commanders on the ground say more troops are needed, then more troops are needed. The war in Afghanistan can not be waged from the Senate and House floors of Congress or e-mails on the Internet. We abandoned Afghanistan after their war with the USSR and we got 9/11. It is time to win this war and settle this problem once and for all.
Tom from Vermillion, Ohio writes:
Only if there is a well-defined exit strategy, made public by our leaders. What conditions must be met before our involvement in Afghanistan comes to an end? I haven't really heard any, have you?