FROM CNN's Jack Cafferty:
These days it seems like some so-called celebrities are acting more like third graders than the role models they're supposed to be. At the top of the list is hip-hop star Kanye West, who was a grade A jerk at the MTV Video Music Awards Sunday when he jumped on stage and ripped the microphone away from teenager Taylor Swift, saying Beyonce should have won.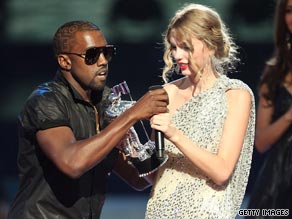 Kanye West took the microphone from Taylor Swift during her speech at the 2009 MTV Video Music Awards.
West has since apologized several times - but he ruined a young girl's moment in the spotlight. Even Pres. Obama called him a "jackass."
In sports - Tennis star Serena Williams cursed out a line judge a third her size in the semi-finals of the U.S. Open, saying she would "take this ball and shove it down your f--ing throat." This happened after an earlier temper tantrum where Williams slammed her racket on the court and broke it.
In the very same tournament, Roger Federer also swore at the chair umpire, saying: "Don't tell me to be quiet, OK? When I want to talk, I talk. I don't give a _____ what he said."
Meanwhile a recent YouTube video apparently caught golf great Tiger Woods throwing his club into the weeds in anger.
Some of our politicians are acting like pigs as well. Congressman Joe Wilson called President Obama a liar on the floor of the House during the president's address to Congress.
And Democratic Congressman Pete Stark of California told a constituent during a town hall meeting that he wouldn't "waste the urine" to pee on the man's leg.
It's not hard to figure out why some of our children don't respect their parents, their teachers, the police or any other authority figures in society.
Here's my question to you: Do celebrities behaving badly tell us something about the rest of us?
Interested to know which ones made it on air?