FROM CNN's Jack Cafferty:
An Indiana pizza shop has to pay for weight loss surgery for a 340-pound employee. An appeals court upheld an earlier ruling that the employer must cover the surgery - which could cost as much as $25,000 - so that the man can have another surgery for a back injury he sustained while on the job.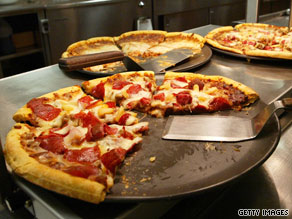 The pizza shop had agreed to pay for the back surgery... but argued they shouldn't have to pay for the weight-loss operation because the man was already obese before he got injured.
But the court said the surgery should be covered because the man's weight and the accident combined to create a single injury.
And this isn't the first case of its kind...
Oregon's Supreme Court recently ruled that the state worker's compensation insurance had to pay for gastric bypass surgery in order for a man's knee replacement surgery to go smoothly.
In a nation where one-third of adults are obese, these cases could have a chilling effect on business. Employers could become wary of hiring fat people or those with other preexisting conditions that could make a workplace injury more likely.
Experts say although it's illegal for companies to refuse to hire an overweight person because of where they tip the scales, they could find other reasons not to hire them.
There were more than 220,000 obesity surgeries performed in the U.S. last year.
Here's my question to you: Should an employer have to pay for an employee's weight loss surgery?
Interested to know which ones made it on air?
Bea writes:
Absolutely not! So, the law says you have to hire the fat guy, but then you get penalized when he needs surgery for an accident for which his obesity was very possibly a contributing factor. At what point did Americans stop taking responsibility for themselves and when did judges lose their ability to use common sense?
Ralph writes:
The pizzeria should not have to pay for this surgery. If this goes through, employers are going to take more caution when hiring employees and this will lead to discrimination issues. It is the employee's problem that he is obese, whether he is to blame for it or not.
Barrie writes:
Wouldn't this question be moot if there were a decent health care system which covered everybody with no preconditions? If there was ever an argument for health insurance reform, this is it.
Ed from Montana writes:
OK, let's go with the employer has to pay for weight loss surgery because you are overweight. Then we can have them also pay for school because you're ignorant, give you a trust fund because you are poor, hair because you are bald, plastic surgery because you are ugly? Give me a break. At what point do we say a person is responsible for themselves?
Lou writes:
Overweight people already face a lot of rejections when looking for a job. This won't help. If this case is successful, no one in their right mind would hire an obese person again.
John writes:
I'm 65-lbs. overweight because of overeating and being lazy. We need to be more responsible for ourselves and take better care and exercise. People want to take the easy way out with surgery. We need to get off our lazy butts and diet and exercise. It's a win-win for all of us. My weight loss begins today!
Darren from Fairbanks, Alaska writes:
I work the door at a strip club, and I think my boss should pay for my surgery for eye strain. Do you think I have a case?