FROM CNN's Jack Cafferty:
If health care reform happens - and it this point, that's still a pretty big "if" - it's looking less likely that a so-called "public option" will be a part of it.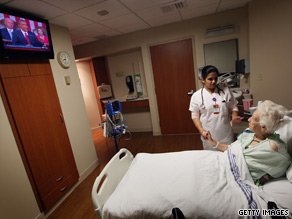 Senator Olympia Snowe - about the only Republican working with the White House on this - says there's "no way" that a plan that includes a public option can pass the Senate. Snowe says that President Obama should drop the idea of a government-backed insurance program in order to get more backing from Republicans:
"I've urged the president to take the public option off the table. It's universally opposed by Republicans."
Two other top senators, one Democrat and one Republican, say that the House version of the health care bill - the one that includes the public option - is dead; and the only chance for reform lies with a compromise bill still being hammered out in the Senate.
Meanwhile some Democrats and the White House are trying to downplay the importance of the public option - saying it's not a deal breaker and that it's just one way to reach the president's goal of covering an estimated 46-million uninsured Americans. Democrats are saying things like "That's a small part of this," or "there's more than one way to skin that cat."
But the fact of the matter is a lot of people insist that without a public option to compete with private insurers, health care reform is meaningless. The president says he still backs a public plan - but that he's also open to other ways to create more competition.
Here's my question to you: Is it health care reform without a "public option"?
Interested to know which ones made it on air?
Mark writes:
Yes, it is. Health care reform needs to address the following: 1) Pre-existing condition coverage. 2) Tort reform. 3) Transportability (job to job). 4) State-to-state competition. 5) Elimination of all coverage for illegal aliens, including ER services, period. Health care reform doesn't need additional government intervention.
Brian writes:
There is no "trickle down" when it comes to the health insurance companies. They hoard profits and that's about it. A public option is the only way to bring down prices. God bless us all if there isn't reform!
David writes:
Certainly, we can have health reform without a public option. We need to enact legislation that curbs abuses by the insurance companies. We also need to help those who cannot afford coverage, but that should be done thru private insurance. Keep government out of this and it will be more efficient and there will be more support except from the far left.
Bob from Spring Hill, Florida writes:
Stop the dog and pony show, Jack. The entire "health care reform" issue boils down to only one question: Will Congress do what is right for the citizens of this country or what's best for the corporations? The answer has been self-evident from the beginning.
Pat from Lexington, Kentucky writes:
Yes. The provisions for no cap on the amount spent by insurance companies, and inability for those companies to drop you due to a pre-existing condition – these provisions are HUGE and do constitute reform. Obama has said for months that the public option is not a deal breaker and I think they'll eventually come up with something. This health care reform will have to happen in pieces and parts.
Sandra from Arkansas writes:
No, no, no. Without a public option, insurance companies will continue to dictate prices, coverage, and policies. Preventive care will be hard to come by and we will eventually have lots more people on what is the public option now, Medicaid. Give us a choice and assure that all hospitals and doctors honor all coverage.