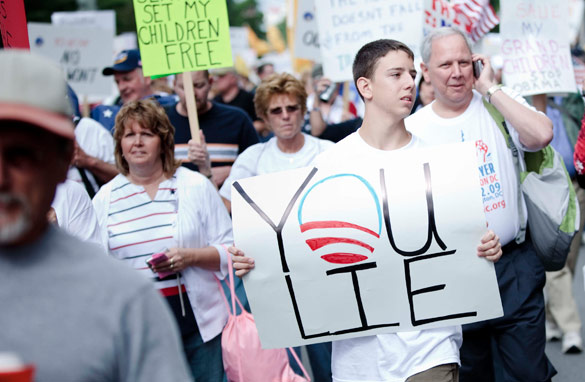 Protesters march and hold signs during the Tea Party Express rally on Saturday in Washington, DC. Thousands marched to Capitol Hill to protest high spending, higher taxes and the growth of the federal government.(PHOTO CREDIT: Brendan Smialowski/GETTY IMAGES)
FROM CNN's Jack Cafferty:
Tens of thousands of protesters marched on Washington Saturday - in the largest demonstration against Pres. Obama since he took office. The march leading to the Capitol was loud and animated and stretched on for blocks.
It seemed like the culmination of what started out as Tea Parties in the spring against the president's economic stimulus package - and turned into health care protests over the summer.
These protesters have managed to give a voice to an opposition - something that Republicans have been trying mostly unsuccessfully to do.
The crowd was protesting a whole range of things - there were opponents of Mr. Obama's tax, spending and health care plans, as well as those who are concerned about the government's possible encroachment on their right to bear arms.
There were accusations of socialism and shouts of "liar." Protests like this also attract the lunatic fringe - who questioned the president's citizenship, compared his administration to Nazi Germany and even those who likened the president himself to an African witch doctor.
The White House says the protesters are "wrong" about health care and that the president does not think the protests and the growing conservative movement against him are motivated by racism.
Whatever the cause it's worth noting that tens of thousands of people gave up their Saturday to march on Washington, D.C. against a man who has only been in office eight months.
Here's my question to you: What message do tens of thousands of protesters marching on Washington send to Pres. Obama?
Interested to know which ones made it on air?