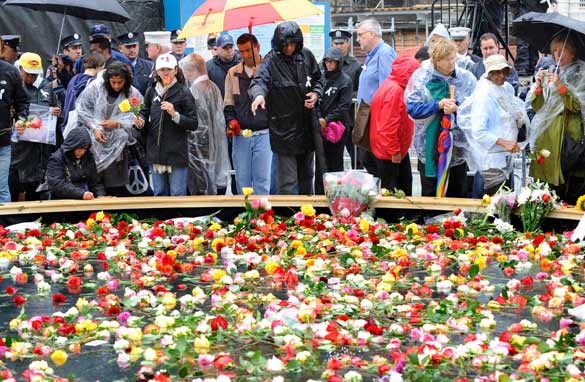 Family members of victims stand in the rain near the reflecting pool placing flowers as people gather at Ground Zero during a 9/11 memorial ceremony. (PHOTO CREDIT: GETTY IMAGES)
FROM CNN's Jack Cafferty:
Today marks eight years since the terror attacks of 9/11. 2,976 people died that day in the most devastating attack on the United States homeland since Pearl Harbor.
This country and the world will never be the same again since that fateful Tuesday in September. The U.S. has invaded two countries and remains involved in two wars. 4,346 U.S. troops have died in Iraq and another 822 in Afghanistan. And Afghanistan only seems to be getting worse these days.
Here at home - the debate now revolves around Islamic extremists, torture, etc. As for getting on airplanes… that's changed forever too. We're used to taking off our shoes and belts, placing liquids in separate bags, waiting in long lines with picture ID, and so on...
And for residents of New York and Washington - most people probably think twice every time they see a plane flying low overhead.
Meanwhile, a new CNN/Opinion Research Corporation Poll shows 34 percent of those surveyed say an act of terrorism is likely somewhere in the U.S. over the next few weeks... but that's only half as many people who felt that way right after 9/11.
In that same poll, only seven percent of people say life in the U.S. is now completely back to normal. 32 percent say it eventually will be... but 60 percent say things will never be back to normal.
Here's my question to you: How has the U.S. changed in the 8 years since the 9/11 attacks?
Interested to know which ones made it on air?
Amanda writes:
Whether or not our safety is compromised, I think that people are more aware of the threat of danger than they were before, sometimes to the point of paranoia. Even today, my family is scared when I leave the safety of my Midwestern home to travel to big cities on the coast. Racial tensions have also risen. I work with international students, and many of the Arab students are called names and treated poorly, when they have nothing to do with terrorism and are simply here to get a better education than they can get back in their home nation.
Mark from Sarasota, Florida writes:
We are broke thanks to needless wars and uncontrolled spending under the umbrella of safety. We lost many civil rights and we did not get bin Laden.
Michael from Fort Wayne, Indiana writes:
Jack, We let them win. The terrorists changed our way of life forever on 09/11/2001 because we let them. They accomplished exactly what they set out to do by making us afraid of our own surroundings and we let them. We need to take back the American way of life and let them know that they cannot take it away by making us live in fear.
Brad from Memphis, Tennessee writes:
We've become cowards. We're afraid of our shadows so we torture people to feel secure. We fear violence so our government takes away our freedom. The moral high ground has crumbled under our feet. Bin Laden's attack did exactly what it was supposed to. It brought out the worst in the best nation in the world.
Rocky from Los Angeles writes:
We've become a nation driven and easily manipulated by fear.