FROM CNN's Jack Cafferty:
One year ago the financial system of the United States came very close to collapsing. It began with the failure of Lehman Brothers and triggered the biggest government financial intervention in our history. That may have been what saved us.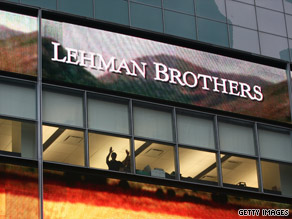 Treasury Secretary Tim Geithner says the bailouts and the other actions taken by the government were absolutely necessary to keep the economy from going over a cliff. And while the worst is over, Geithner warns the recovery ahead will be slow and painful. He expects continued high levels of unemployment and weak growth.
On Monday, President Obama will give what the White House is calling a "major" speech here in New York on the financial crisis. He will address what's been done so far, and what he thinks needs to be done going forward.
In the year since Lehman Brothers collapsed, the U.S. economy has taken quite a beating. The weeks and months that followed saw failures in the financial system and a government response that at one time seemed unimaginable:
– The bailout and subsequent takeover of the world's largest insurer, AIG
– A much larger than usual number of bank failures
– The government taking a stake in huge institutions like Citibank and Bank of America
– The government investing massive sums of money in two of the big three automakers
– And the huge $780 billion economic stimulus package that was rammed through Congress in the early days of the Obama administration
The stock market tanked - but for those with a strong enough stomach to stay in, a recent six month rally has recouped a lot of the losses. And many economists are now saying the greatest economic downturn since the Great Depression is ending.
Here's my question to you: How confident are you in the nation's financial system?
Interested to know which ones made it on air?
Rick from Florence, Alabama writes:
Yes, the economy is in much better shape than a year ago, but we still have a long way to go. As a small business owner, I have seen an upturn in sales and this will mean more jobs since companies like mine will start hiring again.
Kevin from Canton, Ohio writes:
The fundamentals of the economy have only gotten worse since the collapse a year ago. We've got more debt, the Federal Reserve has created more inflation, we've encouraged more people to go into debt with programs like Cash for Clunkers, and we've wasted more resources by propping up failed businesses. We haven't helped the situation at all; we've simply set ourselves up for a bigger bust down the road.
Mark from Boston writes:
I'm confident we will have massive inflation, if not hyperinflation, in the near future. I see $3,000 an ounce gold and $140 a barrel oil before the end of Obama's first term. I believe the Bush and Obama administrations along with Greenspan and Bernanke should have let us go through the painful withdrawal of our debt addiction rather than giving us more debt to temporarily satisfy our addiction.
Delia from Katy, Texas writes:
I have no confidence in the financial system at all! There have been no regulations to stop this from happening again. When capitalism is allowed to work properly (no tax benefits for business and no bailouts when they fail), then I'll feel confident.
Jonathan from Dothan, Alabama writes:
I'm not confident at all when we are in debt to China for billions. If they decide that it is time to pay up, we are doomed.
Donald from Tampa, Florida writes:
Jack, I am confident as long as the government has their foot on the CEOs' throats. The market has always been all about greed, but our finance people have taken it to a new level.