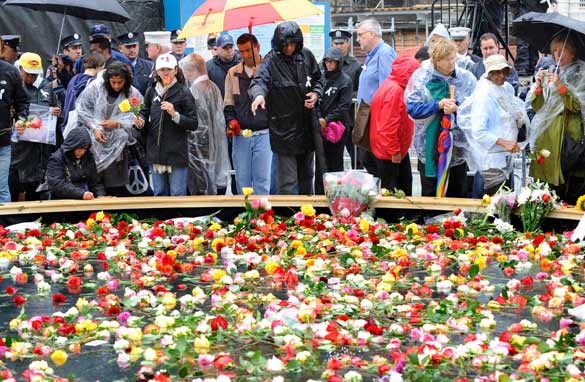 Family members of victims stand in the rain near the reflecting pool placing flowers as people gather at Ground Zero during a 9/11 memorial ceremony. (PHOTO CREDIT: GETTY IMAGES)
FROM CNN's Jack Cafferty:
Today marks eight years since the terror attacks of 9/11. 2,976 people died that day in the most devastating attack on the United States homeland since Pearl Harbor.
This country and the world will never be the same again since that fateful Tuesday in September. The U.S. has invaded two countries and remains involved in two wars. 4,346 U.S. troops have died in Iraq and another 822 in Afghanistan. And Afghanistan only seems to be getting worse these days.
Here at home - the debate now revolves around Islamic extremists, torture, etc. As for getting on airplanes… that's changed forever too. We're used to taking off our shoes and belts, placing liquids in separate bags, waiting in long lines with picture ID, and so on...
And for residents of New York and Washington - most people probably think twice every time they see a plane flying low overhead.
Meanwhile, a new CNN/Opinion Research Corporation Poll shows 34 percent of those surveyed say an act of terrorism is likely somewhere in the U.S. over the next few weeks... but that's only half as many people who felt that way right after 9/11.
In that same poll, only seven percent of people say life in the U.S. is now completely back to normal. 32 percent say it eventually will be... but 60 percent say things will never be back to normal.
Here's my question to you: How has the U.S. changed in the 8 years since the 9/11 attacks?
Interested to know which ones made it on air?