FROM CNN's Jack Cafferty:
The writing seems to be on the wall for South Carolina Governor Mark Sanford - even if he refuses to read it. There's a growing chorus of voices in that state calling on the governor to just go away.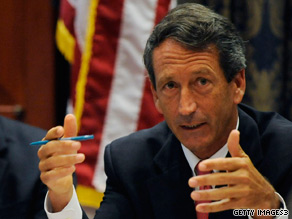 Sanford has been under fire ever since he went MIA for a week in June, lied about his whereabouts, and then resurfaced only to admit he wasn't hiking the Appalachian trail, but was in Argentina visiting his mistress. Since then he's been under investigation for his use of state resources.
The head of the Republican Party in South Carolina is expected to ask later today for a party resolution calling for Sanford's resignation. They voted in July to censure Sanford for "repeated failures to act in accordance" with the GOP's core beliefs. But they didn't ask him to step down then.
This comes just a day after a majority of the Republicans in the state House of Representatives wrote a letter to Sanford demanding his resignation... they say his actions have been "destructive to our state's image on a worldwide stage."
Among the 60 Republicans who signed the letter are several lawmakers who would play key roles in an impeachment process, which has also been talked about.
But Sanford isn't listening.. he called this letter "both unpersuasive and unsurprising," and said he won't be railroaded out of office by his political enemies.
A of couple weeks ago, Sanford also rejected his lieutenant governor's request that he resign for the good of the state.
Here's my question to you: Why won't South Carolina Governor Mark Sanford go away?
Tune in to the Situation Room at 5pm to see if Jack reads your answer on air.
And, we love to know where you're writing from, so please include your city and state with your comment.
Interested to know which ones made it on air?