FROM CNN's Jack Cafferty:
President Obama's speech to Congress tonight is seen as a turning point, one way or the other, when it comes to health care reform.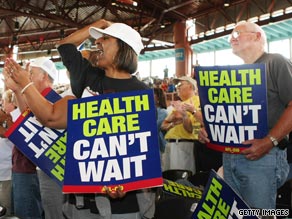 The month of August clearly didn't go according to the Democrats' plan; and even now, divisions within the president's own party threaten to stop his signature issue from moving forward.
Camille Paglia - who supports the president - writes on Salon.com that it's still possible for the president to turn things around with a strong speech tonight, but acknowledges that after a "summer of grisly hemorrhaging, too much damage has been done."
Paglia asks how a White House that couldn't even smoothly pull off an "innocuous back-to-school pep talk" will revamp health care, and criticizes the Democratic Party for becoming "arrogantly detached from ordinary Americans" and for not realizing that talk radio and the web is where the debate is at.
Maureen Dowd goes after the president in today's New York Times for not being tough enough:
"Sometimes, when you've got the mojo, you have to keep your foot on your opponent's neck. Civil discourse is fine, but when the other side is fighting dirty, you should get angry. Don't let the bully kick sand in your face."
Dowd suggests the president needs to be "less Spocky and more Rocky."
But despite all the gnashing of teeth, it's worth pointing out that the critical players in the industry are still at the table, and it's also worth remembering the political cost to Bill Clinton when reform didn't happen on his watch.
Here's my question to you: Is it too late for Pres. Barack Obama to change people's minds on health care reform?
Interested to know which ones made it on air?