FROM CNN's Jack Cafferty:
As Congress gets back to work following a 40-day vacation (hope they're rested!) things in Washington don't look all that different than they did before their summer recess - especially when it comes to health care reform.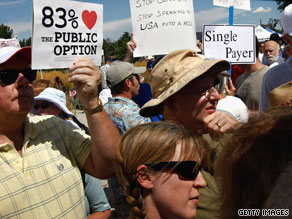 House Democrats are returning to the same set of problems they left behind 40 days ago:
Conservatives in the party are unsure about backing the so-called public option"... freshman lawmakers from suburban areas are worried about increasing taxes on wealthy constituents... and liberals are threatening to oppose the bill if it doesn't contain the public option.
Something's gotta give.
Polls suggest Americans remain just as divided as they were a month ago - a new Gallup Poll shows 39 percent of those surveyed say they would tell their member of Congress to vote against a health care bill this fall, while 37 percent want their member to vote for it.
Meanwhile - expect Congress to focus on health care mostly as to how it may or may not affect their chances of holding onto their jobs.
At the end of the day, politicians worry about their own political hides first and the public welfare whenever. Polls show that only about one-third of Americans approve of Congress.
And since the Democrats control both Congress and the White House, expect the voters to take out more of their displeasure on them during next fall's midterm elections.
Here's my question to you: How has the health care debate changed during the 40 days Congress was on vacation?
Interested to know which ones made it on air?