FROM CNN's Jack Cafferty:
Congressman Charlie Rangel played the race card in the health care debate. Rangel says racial bias and prejudice against President Obama because he's an African-American are behind the opposition to health care reform.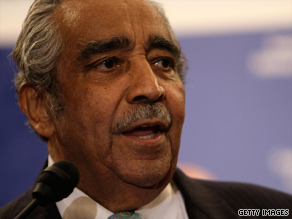 U.S. Rep. Charles Rangel (D-NY)
Rangel stated: "Some Americans have not gotten over the fact that Obama is president of the United States. They go to sleep wondering, 'how did this happen?'"
It's a cheap shot and probably just about the last thing that President Obama needs in the already-heated debate. And it's even more of a cheap shot coming from Rangel, considering the fact that the chairman of the powerful House Ways and Means Committee, is under investigation for several ethics violations.
Mr. Rangel was forced to file amended financial reports to the House Ethics Committee after it was discovered he apparently "forgot" to report millions of dollars in assets and income. Just another hack politician who when the going gets tough resorts to race politics.
The Washington Post is calling on Rangel to resign as chairman of that committee.
But I'm sure he's not going anywhere - any more than Governor Mark Sanford of South Carolina or Larry Craig of Idaho or any of a number of so-called public servants who use their elected office as a way of avoiding the rules the rest of us live by.
For his part, Rangel says it's not fair for him to comment until the ethics committee wraps up its investigation. In the meantime, he should just go away.
Here's my question to you: Is Congressman Charlie Rangel, up to his ears in ethics investigations, out of line in saying race is at the center of the health care debate?
Interested to know which ones made it on air?
Pugas from Arizona writes:
Rangel is one of the biggest frauds in the government. It is time to show him the door. We do not need his big mouth blabbing about this "race issue." He has hung his hat on that BS for as long as I can remember. Send him home to clean up his own financial mess (maybe while in prison). Diverting attention away from his shady dealings is not going to work.
Suane from McComb, Mississippi writes:
Jack, You know he's right. That's the bottom line: race is the whole thing feeding the Birthers, the Tea Partiers, the don't-speak-at-my-schools, and those gun-toters who claim their 2nd Amendment Rights have been infringed upon. Man, the whole thing is that they just can't stand to say that a black man is the Commander-in-Chief.
Penny from Muleshoe, Texas writes:
Charlie Rangel is in the game for Charlie Rangel, period. What Rangel failed to mention in his speech about Pres. Obama is that Obama is half white, too. Look at Obama's birth certificate, Charlie, and you will see that. What he achieves as a half-black man he also achieves as a half-white man, Mr. Rangel. Everyone knows Obama's race and where he came from and we do not need people like Charlie Rangel trying to redefine that for us. Obama will stand on his own merits. Unfortunately, Charlie Rangel can not.
Tim from Hot Springs, Arkansas writes:
Of course he is. The issue isn't race, it's color. Unfortunately for Rangel's cause, the color isn't black or white, but green. It's always about green.
Timothy from Texas writes:
Charlie Rangel is a walking, talking, example of why term limits on congressmen and congresswomen need to be put in place. Seems like the longer you stay in Washington, the more delusional and out of touch with reality you become.
Arnold writes:
When I hear the words, "I want my country back" in the town meetings, you wonder: Back from what? Back from a black man?