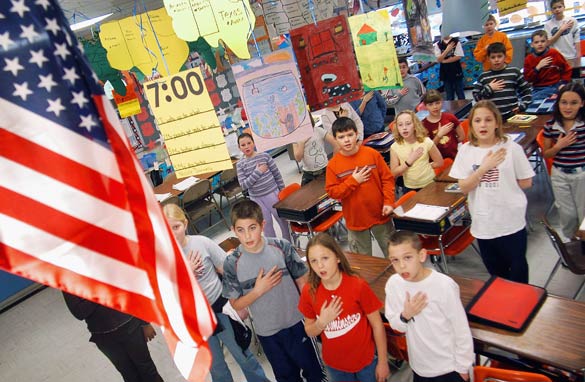 (PHOTO CREDIT: William Thomas Cain/Getty Images)
FROM CNN's Jack Cafferty:
It was supposed to be a "feel good" event for the White House and a break from all the fighting and name-calling over health care, but instead President Obama's back-to-school speech next Tuesday has created a firestorm of its own.
Some school districts around the country are refusing to carry it. Some Republicans say they're appalled at spending tax money to spread the president's "socialist ideology." They're comparing it to something you would see in North Korea or Saddam Hussein's Iraq.
On the surface, it seems like a good idea - a pep talk for the nation's schoolchildren from the president, calling on them to take responsibility for their education and do their best.
Instead it's starting to look like another political miscalculation by the White House with some Republicans and parents characterizing the ideas as developing a "cult of personality."
The White House is asking students to write letters about how they can achieve their short-term and long-term education goals. They will also release the text of the speech on Monday so parents know what to expect. Seems harmless enough.
Ironically, the first President Bush was criticized by Democrats when he made a similar televised address to students in 1991. He asked children to take control of their education and write him a letter about how they could achieve their goals. Been here - done this.
Here's my question to you: Is President Obama's back-to-school address an inappropriate mix of politics and education?
Interested to know which ones made it on air?
Mark from Houston writes:
Jack, The quick answer is no, unless of course the real anger and hatred for Obama is based on the fact that he's not a Republican, he's not speaking out enough against abortion and that he's black, in which case you're going to hate the man no matter his efforts or accomplishments. I remember in grade school, our 6th grade class being released from school and bussed 35 miles to an adjacent town where we stood and cheered Pres. Eisenhower as he passed by in a campaign-related parade. The next day we were asked to write a short paper on how we could help support the president and become better citizens. Not a soul complained.
Bill from Charlotte, North Carolina writes:
Jack, Anything mixed with politics is inappropriate anymore. The Republicans are opposed to anything Obama suggests. But then, the Democrats are opposed to anything the Republicans would suggest. As you said, Democrats criticized the first Pres. Bush when he made a similar televised address to students. If the Democrats felt it was wrong then, how can they support it now? If the Republicans feel it is wrong now, why did they support it then?
Ann from Nashville writes:
This is unbelievable to me. I hated Pres. Bush's policies but I would have thought it wonderful if he addressed my granddaughter's school. It is the office of the President of the United States. Where is the civility and respect in this country any more?
Roanna from Peoria, Arizona writes:
Jack, Let's skip the niceties here. Anything Obama does, the "loudest 20-percent" will criticize and demonize. They will fight until he is defeated and the country will stand stagnant. These people are racists and sore losers. The Republican leadership should walk around with their heads permanently held in shame, which is better than where their heads usually reside.
Stephen from Macon, Georgia writes:
I suppose the Republicans would prefer a president who sits down with the kids and reads "My Pet Goat" to them while the country is under attack.