FROM CNN's Jack Cafferty:
As we head into Labor Day weekend, consider this: For the first time since the question was first asked in the 1930s, fewer than half of Americans approve of labor unions. A new Gallup poll shows organized labor taking a big image hit in the last year...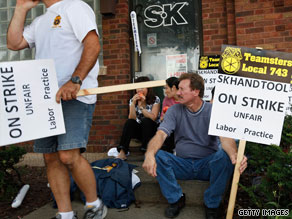 Workers at SK Hand Tools in Chicago picketed outside their plant last week after their health insurance benefits were cut without notification.
- The poll finds only 48-percent of those surveyed approve of labor unions, that's down from 59-percent a year ago. While approval of unions is down among most groups, the biggest drop comes among independents.
- While 66-percent of Americans say unions are beneficial to their own members, 51-percent say that unions mostly hurt the economy. That number is up from 36-percent in 2006.
- And, 42-percent say they want unions to have less influence, compared with 25 percent who want more influence... last year, these numbers were about even.
But in the past year - a whole lot has changed. These new poll numbers come during an economic recession with record unemployment, and in the aftermath of major taxpayer-funded bailouts of two of the Big Three auto companies.
When Congress was considering these bailouts last winter - polls showed many Americans blamed the unions for the auto industry's problems.
Here's my question to you: In light of the Labor Day holiday, has your opinion of labor unions changed in the past few years?
Interested to know which ones made it on air?
Jim writes:
Labor unions have outlived their usefulness. They pad their members' paychecks with absurd benefits that nobody else has while holding the employers hostage to their demands. They are the primary reason why so many businesses have chosen to locate outside the country.
Mike from Lexington, Kentucky writes:
The price that was paid for all the benefits being enjoyed by today's retired union workers was the bankruptcy of their employer. No company can afford the outrageous wages and benefits being "earned" by their under-educated and overpaid laborers. Bust the unions, before they bust U.S.
Shaun from Evansville, Indiana writes:
Labor unions were established for a reason - to keep the common worker from being trampled on by big business and the corporate grindstone. If, over the years, they've gotten the power to actually make changes to the system, then I say more power to them. They're working to make the lives of your mother, father, sister, brother, son or daughter better, and I applaud them for that.
Michelle writes:
Yes, unions used to fulfill a useful purpose. Now they mostly justify less work for more pay, reward those who do less, make excuses and have very greedy executives. You complain about Wall Street execs, check out some of the compensation for these union execs, not much different. It's become Chicago politics; they claim to be for the little person or the worker, but ultimately they are only looking out for themselves.
Linda from Arizona writes:
There has been a concerted effort by big business and the corporate-run Republicans to kill support for labor unions in this country, and the unions have played into it nicely with what often can only be called corruption. Nevertheless, they are still the only people who even pretend to care about the workers. I will always be a union supporter.
Noel from Nashville, Tennessee writes:
Jack, It seems to me that the general public opinion of everything has gone down recently. We have become a nation of pessimists and cynics.