FROM CNN's Jack Cafferty:
Want to know why they're having trouble getting health care reform passed in Washington? Consider this: There are six.... count 'em - six, lobbyists for each of the 535 members of Congress.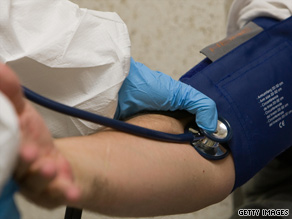 This translates to 3,300 lobbyists working on health care - or three times the number who lobby on defense. These groups reportedly spent more than $263 million on lobbying during the first six months of this year - with drug makers alone spending more than $134 million.
One expert tells Bloomberg news: "The sheer quantity of money that's sloshed around Washington is drowning out the voices of citizens and the groups that speak up for them."
And let's talk about that money for a minute. According to The Center for Responsive Politics, health-related companies gave almost $170 million to federal lawmakers in 2007 and 2008.
Max Baucus - chairman of the Senate Finance Committee - got $3 million from the health and insurance industries from 2003 – 2008.
The ranking Republican on that committee, Sen. Chuck Grassley, took in more than $2 million since 2003.
Over in the House - Ways and Means Chairman Charlie Rangel received $1.6 million from the health sector and its employees in the last two years. And ranking Republican Dave Camp received almost $1 million in that time.
And this is just a few of them.
Here's my question to you: When it comes to health care reform, are six lobbyists for each member of Congress enough?
Interested to know which ones made it on air?
Dave from Rockville, Virginia writes:
It is amazing to hear that $263 million has been spent lobbying our elected officials on health care in just the first six months of this year. If that much money is being spent by organizations trying to gain influence, think about what the pay off must be if they get what they want.
Olu writes:
Six lobbyists? This is crazy, that's why we're getting nowhere. What happened to Obama keeping his promise about getting rid of lobbyists? I guess he needs to get down with this if something real is to be done.
Roz from Canada writes:
6 lobbyists? These senators are nothing more then whores for the medical insurance companies and big pharma. When will this be stopped? These fat cats live large while rolling the dice on the health and welfare of the citizens. Shame on them for their ugly greed and shame on the lobbyists. Ultimately though, the blame lies with the senators as they could say "no" to these vultures if they really wanted to.
Dale from Colorado writes:
With Congress on the take, and I can only wonder why it requires six lobbyists to bribe each member, it's no wonder that Congress isn't making any significant progress on health care reform. Conservatives, Blue Dog Democrats, and the other paid sock-puppets are deliberately obfuscating the salient truths about a public option and real reform as that best serves their selfish interests and the selfish interests of the status quo.
John from Clemson, South Carolina writes:
Jack, If I had invested all those millions on certain members of Congress to protect my health care profits, I sure wouldn't trust them to be alone for a minute. I would hire 24 lobbyists per congressmen per day so a refreshed lobbyist was with them for each hour of the day. It's really too bad that the people who need health care reform don't have the money to compete with the health care industry in buying off our congressmen.