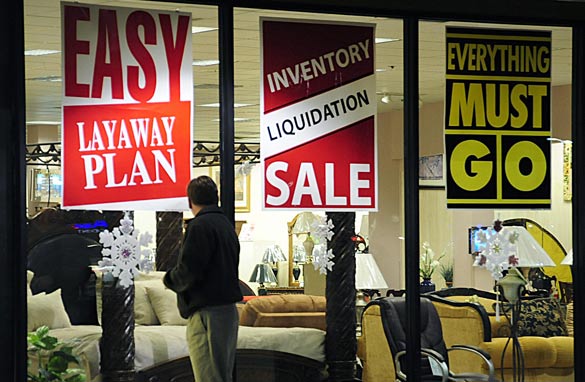 (PHOTO CREDIT: GETTY IMAGES)
FROM CNN's Jack Cafferty:
Almost nine in 10 Americans think the country is still in a recession - more than 21 months after it began. A new CNN/Opinion Research Corporation Poll shows 87 percent of those surveyed say we're in a serious, moderate or mild recession... while 69 percent say things are going badly in the U.S.
The good news is that number is down from a high of 83 percent in November, and 77 percent in April.
Also - fewer Americans now think we're in a "serious" recession than those who did in the spring.
And, although the economy is still the top issue according to most Americans.... this poll suggests it's dropping in importance.
While the American people might not be convinced that the end is in sight, a lot of economists say things are turning around. The Federal Reserve says it's more confident that the economy is stabilizing... although they're not sure what the recovery will look like.
Recent data has shown the economy expanding, but so far it hasn't been enough to turn around the job market. We still have 9.4 percent unemployment; and that number is expected to top 10 percent.
It's unlikely we'll see any more significant changes until consumer spending - which makes up two-thirds of the economy– picks up again. And with an overwhelming majority of Americans saying we're in a recession - it doesn't seem like they'll be reaching for their wallets any time soon.
Here's my question to you: Do you believe the U.S. is still in a recession?
Tune in to the Situation Room at 5pm to see if Jack reads your answer on air.
And, we love to know where you're writing from, so please include your city and state with your comment.