FROM CNN's Jack Cafferty:
It's estimated between 30,000 and 90,000 people in this country could die from the swine flu this year. Scary stuff. True, in an average year about 36,000 people die from regular flu - but this has the potential to be much, much worse.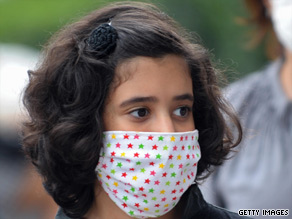 Homeland Security Secretary Janet Napolitano says the best things people can do are simple... like washing their hands often and coughing into their sleeve.
President Obama says he doesn't want anybody to be alarmed, but he does want people to be prepared... This includes families and businesses making plans in case relatives or co-workers catch the virus and need to stay home.
Swine flu cases are expected pick up again as the school year starts... and possibly peak in mid-October. A vaccine is being tested - but isn't expected to be available until at least mid-October. Children and young adults will be at the greatest risk.
This thing has got Americans' attention. A CNN/Opinion Research Corporation poll shows 39-percent of those surveyed are concerned that they or someone in their family will get the swine flu... that's double the percent who felt that way in May.
The poll also shows most Americans are confident in the government's ability to prevent a nationwide epidemic, and two-thirds say they plan to get vaccinated.
So far there have been 550-deaths in the U-S from H1N1 - or swine flu. A scientific panel recently said it's possible that anywhere from 30-to-50 percent of the population could catch it. 50-percent of the population would be around 150-million people.
Here's my question to you: Will the fear of getting swine flu change your daily life this fall?
Interested to know which ones made it on air?