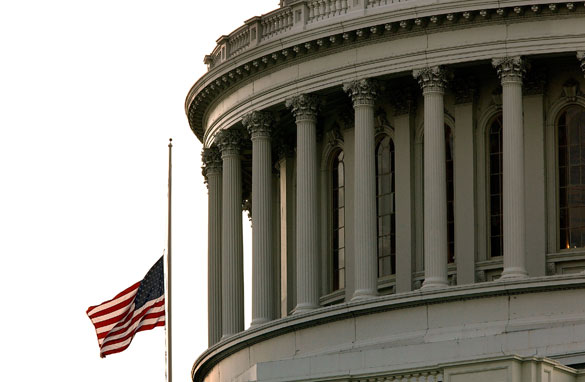 The American flag flies at half staff Tuesday following the death of Sen. Ted Kennedy. (PHOTO CREDIT: CHIP SOMODEVILLA/GETTY IMAGES)
FROM CNN's Jack Cafferty:
When it comes to filling Sen. Ted Kennedy's leadership shoes, it doesn't seem at first glance that there is anyone who can.
As Politico puts it, no other senator possesses the combination of "celebrity, seniority, personal charm, legislative savvy and ideological zeal that made Kennedy the most effective liberal in a generation."
Those who worked with him call Kennedy "irreplaceable." Many have said the senator's presence was sorely missed in the health care debate. Because of his failing health, he was unable to spend much time on Capitol Hill the last few months. Although Kennedy was a staunch liberal, he was known for compromising with Republicans – a skill pretty much lacking in both parties these days.
Perhaps the only senator who had similar star power was Hillary Clinton. And, before she became Pres. Obama's secretary of state, some aides had hoped she would assume a Kennedy-like role in the Senate.
That's not to say there aren't plenty of senators who would like to assume Kennedy's role. They include folks like Senators John Kerry, Chris Dodd, Tom Harkin, Dick Durbin and Russ Feingold.
In the end though, the party may not be able to find a single figure with the personality, clout and popularity to replace Ted Kennedy. Sad really, that the greatest deliberative body in the world – home to the likes of Hubert Humphrey and Everett Dirksen – has become little more than a partisan snake pit where not a whole lot worthwhile gets done anymore.
Here's my question to you: Who is likely to assume Ted Kennedy's leadership role in the Senate?
Interested to know which ones made it on air?
Bob from Louisville, Kentucky writes:
Sen. Russ Feingold of Wisconsin is the most "Kennedy-like" member of the Senate. He has leadership ability, is independent-minded, does not cater to nor is he in the pocket of "special interests" and he has the ability to "reach across the aisle" in order to bring about the passage of meaningful legislation. Like Kennedy, he has an excellent civil rights record and has consistently displayed concern for the less fortunate.
Chris writes:
It is difficult to imagine a replacement who could approach Kennedy's ability and effectiveness anytime soon. My guess is that the new standard-bearer will be John Kerry, Kennedy's fellow liberal and colleague for over twenty years. But even he will, like Kennedy, have to grow into the role.
Lance from Ridgecrest, California writes:
Jack, Just pick out the next most socialist senator after Obama, Clinton, and Kennedy and that's your man/woman. One thing I would be willing to bet on is that whoever it is, they will be East coast, old money, and it will have little to do with brains, or ability, and everything to do with the politics of the ultra-left. Dang, that sounds like Kerry, doesn't it? Or Dodd.
Mike writes:
How about Al Franken? He's from the land of Humphrey and influenced by Paul Wellstone and Dan Moynihan. He's a witty, likable, progressively ideological political wonk with no ties to special interests like other, "long in the tooth" legislators. Just what this Senate needs, fresh horses!
James from Richmond, Virginia writes:
Your analogy of the Senate to a snake pit is very appropriate. At this time, I can't name a possible replacement for Ted. On the other hand, everyone knows who the snakes are. Why can't the voters educate themselves and stop sending the snakes to Washington?