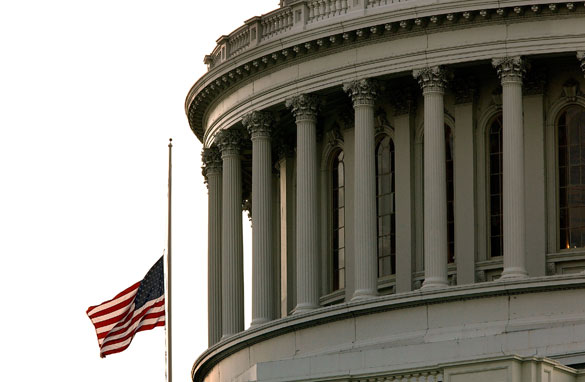 The American flag flies at half staff Tuesday following the death of Sen. Ted Kennedy. (PHOTO CREDIT: CHIP SOMODEVILLA/GETTY IMAGES)
FROM CNN's Jack Cafferty:
When it comes to filling Sen. Ted Kennedy's leadership shoes, it doesn't seem at first glance that there is anyone who can.
As Politico puts it, no other senator possesses the combination of "celebrity, seniority, personal charm, legislative savvy and ideological zeal that made Kennedy the most effective liberal in a generation."
Those who worked with him call Kennedy "irreplaceable." Many have said the senator's presence was sorely missed in the health care debate. Because of his failing health, he was unable to spend much time on Capitol Hill the last few months. Although Kennedy was a staunch liberal, he was known for compromising with Republicans – a skill pretty much lacking in both parties these days.
Perhaps the only senator who had similar star power was Hillary Clinton. And, before she became Pres. Obama's secretary of state, some aides had hoped she would assume a Kennedy-like role in the Senate.
That's not to say there aren't plenty of senators who would like to assume Kennedy's role. They include folks like Senators John Kerry, Chris Dodd, Tom Harkin, Dick Durbin and Russ Feingold.
In the end though, the party may not be able to find a single figure with the personality, clout and popularity to replace Ted Kennedy. Sad really, that the greatest deliberative body in the world – home to the likes of Hubert Humphrey and Everett Dirksen – has become little more than a partisan snake pit where not a whole lot worthwhile gets done anymore.
Here's my question to you: Who is likely to assume Ted Kennedy's leadership role in the Senate?
Interested to know which ones made it on air?