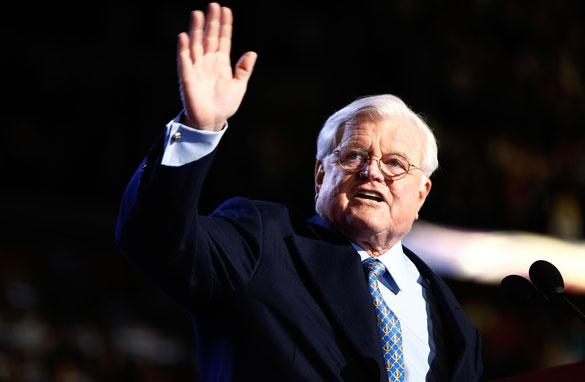 Can Sen. Kennedy's death bring bipartisanship to the health care debate? (PHOTO CREDIT: GETTY IMAGES)
FROM CNN's Jack Cafferty:

(CNN) - Democrats are hoping that Senator Ted Kennedy's death will help breathe new life into health care reform.
Some believe the loss of Kennedy will bring a new spirit of bipartisanship to the issue, and at the very least change the tone of the debate, which has become downright nasty. Already, one group against reform has suspended its advertising out of respect for Kennedy.
House Speaker Nancy Pelosi says Kennedy's "dream of quality health care for all Americans will be made real this year because of his leadership and his inspiration." Democrats plan to name the forthcoming legislation after the late senator.
But not everyone is so sure Kennedy's death will make any difference on the health care debate. One top Republican tells the New York Times the fight was pretty much suspended with the president on vacation and that it would likely "pick up right where we left off in a week or two."
In fact, several Republicans say they think Congress would be closer to reaching a deal if Kennedy had been healthy and involved in crafting the legislation – since he had the ability to cross the aisle and compromise.
And, it's not just Republicans who will need to start cooperating here. Some say the real question will be whether Kennedy's passing prompts Democrats who have been wavering on reform to get on board.
Here's my question to you: Can Senator Kennedy's death revive the spirit of bipartisanship when it comes to health care reform?
Interested to know which ones made it on air?
Mack from Michigan writes:
No it won't, Jack. The right-wing talking radio head hate dispensers have long disparaged Sen. Kennedy as one of the evil leaders of the evil liberal/socialist agenda. They have already begun to disparage the reputation and memory of the man, claiming his death is now a marketing plan for "Obamacare". The feeble-minded followers of these hate mongers will continue to eat up the lies and propaganda like candy, and bipartisanship will continue to be just a concept.
Allen from Idaho writes:
That's a very nice thought, but I wouldn't bet a nickel on it happening. The Republicans don't play well with others anymore. They have gotten their base so excited with hate speech about death panels, socialism, and comparing Democrats to Hitler, that a compromise would cause a complete revolt within the party.
CJ from Roanoke, Virginia writes:
Even with Kennedy gone, where is the money for this going come from? Nothing has changed and the country is going broke. Gridlock is the best thing at this point in the Obama presidency.
Larry from Milford, Connecticut writes:
I am fighting lung cancer and my insurance company wants to cancel my policy due to a pre-existing condition. I have lost the one person who could possibly stop this from happening. The rest of the Washington folks really don't give a damn.
Wilhelm writes:
You will never get bipartisanship from the Republicans. The only thing Pres. Obama can hope for is that Sen. Kennedy's passing will shame these so called "Blue Dog" Democrats in the Senate, many of them bought and paid for by the health insurance lobby, into doing what's right for the American people for once.
Jerry from Fountain, Colorado writes:
Sadly, I don't think so. With Kennedy's passing, we have lost the only person in Congress who really cared about the people. I don't think there are any Lions left. Just some sheep and chickens.