FROM CNN's Jack Cafferty:
One of the causes nearest and dearest to the late Senator Ted Kennedy's heart was health care reform.
Kennedy was a fierce advocate for reform during the Clintons' effort at overhaul in the early 90s - and a leader in helping pass recent legislation to provide health care to millions of children.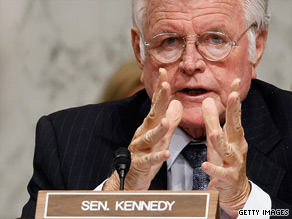 Had he lived - Kennedy likely would have been disappointed once again… as it seems the chances of getting health care reform done are receding yet again.
Democratic Senator Russ Feingold told voters in his home state of Wisconsin that there would likely be no bill before the end of the year... and maybe never, saying: "Nobody is going to bring a bill before Christmas, and maybe not even then, if this ever happens. The divisions are so deep. I've never seen anything like that."
Feingold said that it's unfortunate that Congress is headed in the direction of doing "absolutely nothing." He added he couldn't say whether he would support a health care bill until he actually sees it.
Feingold has been a supporter of trying a variety of health reform proposals in different states first... instead of applying the same massive changes to the whole country. He said he doesn't think a "one-size-fits-all" approach would work as well as letting states have some flexibility.
Definitely not a good sign for President Obama when you have members of your own party questioning whether this thing will ever happen.
Here's my question to you: What will it mean to health care reform if it's delayed until Christmas and maybe beyond?
Interested to know which ones made it on air?
Jeff from Isla Vista, California writes:
All it will mean if health care is delayed is that the Democratic Party will have time to solidify its power base and have a better chance of passing a bill that they like. I'm sure the Edward Kennedy Health Care Act of 2009 will pass with a public option.
Tim from Hot Springs, Arkansas writes:
Delaying health care reform isn't a sign of its failure, it's a sign of the failure of the Democratic Party. If they had any backbone at all, this would have been passed before the summer recess. Instead, their internal bickering makes them weak, subject to future legislative failures and substantial losses in 2010. The Republicans may be on life support, but the Democrats are slitting their own throats. You tell me, which lives longer?
Stephanie from Charlottesville, Virginia writes:
I feel similar to the way I felt each time George W. Bush was elected - that the country would reap what it was sowing, the inevitable slow descent into second-class countryhood. Our empire will continue to decline and fall if we don't get a handle on health care costs. This absolutely means getting rid of insurance companies' monopoly on costs. (Incidentally, I am a physician).
Mike from Huntsville, Alabama writes:
That our do-nothing government continues to do nothing. They don't solve real problems; each party lays traps for the other one and plots ways to score points. They don't have any real interest in solving our nation's problems. Make the other guys look bad so we regain or maintain power is what it is all about.
John from San Diego writes:
Jack, It will mean what we already know: we have a Congress full of legislators who are incapable of legislating. The last and only true American legislator passed away last night.