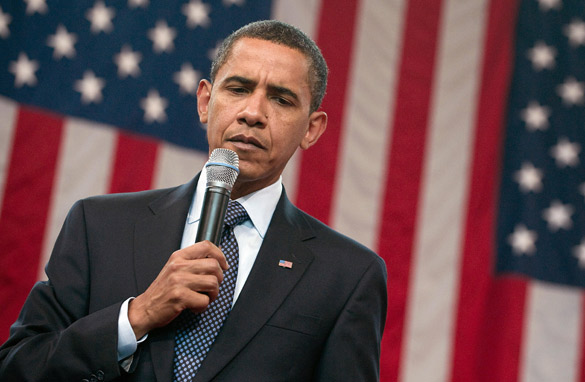 (PHOTO CREDIT: SAUL LOEB/AFP/GETTY IMAGES)
FROM CNN's Jack Cafferty:
President Obama should take a page from former President Clinton's play book and move to the right - so says Wall Street Journal columnist William McGurn.
He writes that Clinton's presidency was actually saved after his push for health care reform failed and the Republicans won control of both houses of Congress. McGurn says it was at that point that Clinton started adopting the most appealing parts of his opponents' agenda and moved his whole approach to governing more toward the political center.
McGurn suggests that a move to the right would be a "bitter pill" for President Obama since he's made health care his signature issue. But he points to polls that for months have been showing a huge gap between the president's popularity and the lack of public support for many of his policies.
He says the president bet that his personal popularity would be enough to push through his agenda... but it hasn't. Instead - his credibility and popularity are taking a hit.
President Obama has been slipping in the polls for weeks, and the latest Gallup weekly tracking poll shows the president's approval at 52-percent - a new low. It's also down significantly from 59-percent just a month ago. Gallup says the president's rating among several demographic and political groups is now registering below the symbolic threshold of 50-percent.
And, health care reform is far from the only challenge facing this White House. The recession still has a tight grip on the economy... with the dollar losing influence daily, news that deficits will be worse than the administration predicted... and an unemployment rate soon expected to hit 10-percent.
Here's my question to you: Is Barack Obama's presidency in trouble?
Interested to know which ones made it on air?
Kathleen writes:
Obama is facing the realities of the presidency. But given the enormity of the problems he faced, he's doing very well and has the potential for greatness. What I can't understand is the strategic stumbling on health care reform when he and his staff have been so brilliant on just about everything until now.
Bernie writes:
Yes, Pres. Obama is in serious trouble. The reason is a lack of focus combined with a lack of resolve. By flip-flopping on so many issues and caving into special interests, while letting the Pelosi's and Reid's do his legislative diplomacy for him, the country is starting to wonder if this guy will get anything done.
Ken from North Carolina writes:
Pres. Obama had an agenda when he was running for president, however, towards the end of the campaign our economy went south. That and two wars have complicated his agenda, but to say it is in trouble is stretching it a bit. Our economy will turn around and wars will end. President Obama will get some credit and beyond that he will accomplish some of his goals and that will give him an edge in the elections of 2012.
Chris from San Antonio, Texas writes:
It's the economy, stupid. Obama's presidency will hinge on one issue and one issue only: jobs. If Obama and the Democratic Party can manage to get us out of this fiscal quagmire, then universal health care can fall into a deep pit of mootness. Conversely, if this economy is not significantly improved by the time Obama faces re-election, then all the health care coverage in Switzerland will not save his presidency.
Lori from Pennsylvania writes:
If I balanced my budget the way he balances the country's, I would be jail. It is disgraceful.
Lou writes:
Iraq is starting to stand on its own and our soldiers will be home within a year. We averted a depression. The stock market has gone up 20-percent since January. Reforming health care is going through a healthy debate. Gitmo was officially closed and will be dismantled. Now I hear there is hope for peace talks between Israel and the Palestinians. What, that's not good enough for the first six-months in office?