FROM CNN's Jack Cafferty:
The death of Ted Kennedy marks the passing of an era.
The senator from Massachusetts was the last of the four Kennedy brothers to die - all of them serving their country. Joe Jr. died as a World War II pilot. John was a congressman, senator and president before being assassinated. Bobby, a U.S. attorney general, senator from New York and a presidential candidate at the time of his assassination.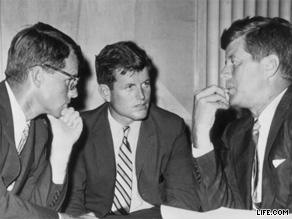 Robert F. Kennedy, Ted Kennedy and John F. Kennedy are pictured on Jan.1, 1962
Ted Kennedy, the youngest of nine siblings, is the only brother to live past the age of 50; and many believe that as the survivor, he will be the one who leaves the most significant impact on this country. Kennedy - who served 46 years in the Senate - was a staunch liberal but also known for reaching out across the aisle. He was a champion for issues like civil rights, health care, education, voting rights and labor.
The Kennedy family has been an endless source of fascination for the American people for decades. To many - the Kennedys are the closest thing to royalty we have. And the family has offered glamour, the "Camelot" mystique, hope and idealism.
But along with high political ambitions and success for the Kennedys has also come great low points, tragedies and untimely deaths: the two assassinations, Ted Kennedy's nearly fatal plane crash along with his infamous incident at Chappaquiddick, John Jr.'s fatal plane crash... and numerous substance abuse and marital problems.
Here's my question to you: Why did America remain fascinated with the Kennedy brothers for more than 50 years?
Interested to know which ones made it on air?
Sean from Canada writes:
I'd have to say because the Kennedys were the all-American boys who could do no wrong. They were young boys out to lead America with hope for the future. Everyone knew them: they were the boys who lived down the street in the big house with the red door and white picket fence, and the one whose oldest brother went off to war and died for America… I'm 24 years old and live in Canada and, heck, feel like they were my friends when I was a kid.
Lee writes:
They were rich, famous and good-looking and all they really cared about was helping people who were less fortunate. I think this made them very appealing to everyone. Not only did Ted take care of his own children, but he helped to take care of his brothers' children, when their fathers were taken away from them in such a horrific way.
Mageen from Virginia writes:
Just the brothers? That's way too little. What Rose Kennedy taught her kids about having so much and giving back I also heard at home. Consequently I knew who all the Kennedys were. It was like we were related, even if by memorandum. Thanks to Jack's presidential campaign, I got active in politics and still am.
Judy writes:
Maybe the fascination for the Kennedy brothers endured because they didn't just talk the talk, they walked the walk. They dedicated their entire lives to helping out the underdog. Who was it that said, "To whom much is given, much is expected"?
Lisa from California writes:
In this country, absent real dynasties and monarchies that still exist elsewhere, we had the next-best-thing: a family that spanned generations with the kind of stuff that makes a fine film or Pulitzer prize winning novel: Good looks, wealth, greed, ambition, lust and style. Politics was the thread that wove all these qualities together. We simply couldn't, nor will ever be able to get enough.
Ronald writes:
Jack, This is an easy one: They gave more than most for this country and asked for little for themselves.