FROM CNN's Jack Cafferty:
The death of Ted Kennedy marks the passing of an era.
The senator from Massachusetts was the last of the four Kennedy brothers to die - all of them serving their country. Joe Jr. died as a World War II pilot. John was a congressman, senator and president before being assassinated. Bobby, a U.S. attorney general, senator from New York and a presidential candidate at the time of his assassination.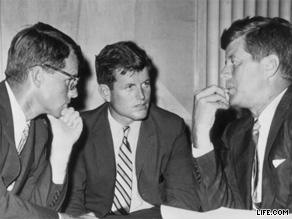 Robert F. Kennedy, Ted Kennedy and John F. Kennedy are pictured on Jan.1, 1962
Ted Kennedy, the youngest of nine siblings, is the only brother to live past the age of 50; and many believe that as the survivor, he will be the one who leaves the most significant impact on this country. Kennedy - who served 46 years in the Senate - was a staunch liberal but also known for reaching out across the aisle. He was a champion for issues like civil rights, health care, education, voting rights and labor.
The Kennedy family has been an endless source of fascination for the American people for decades. To many - the Kennedys are the closest thing to royalty we have. And the family has offered glamour, the "Camelot" mystique, hope and idealism.
But along with high political ambitions and success for the Kennedys has also come great low points, tragedies and untimely deaths: the two assassinations, Ted Kennedy's nearly fatal plane crash along with his infamous incident at Chappaquiddick, John Jr.'s fatal plane crash... and numerous substance abuse and marital problems.
Here's my question to you: Why did America remain fascinated with the Kennedy brothers for more than 50 years?
Interested to know which ones made it on air?