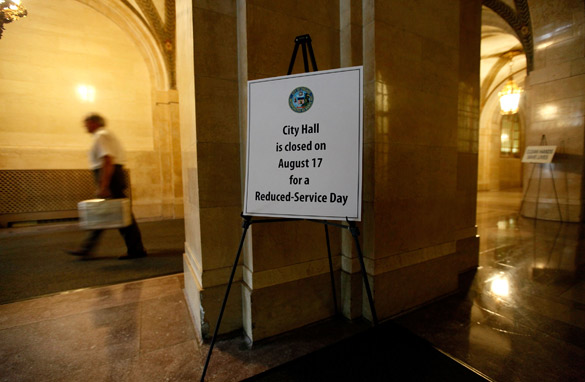 On August 17, Chicago held a reduced-service day. City Hall, public libraries, health clinics and most other city offices were closed in efforts to save money. (PHOTO CREDIT: Scott Olson/GETTY IMAGES)
FROM CNN's Jack Cafferty:
Rhode Island plans to shut down the state government for 12 days as a way of dealing with severe financial problems.
The plan, laid out by Governor Don Carcieri, is expected to save $22 million in a state struggling with a 12.7 percent unemployment rate and the loss of hundreds of millions of dollars in tax collections as a result of the economic recession.
The plan is for 81 percent of the state workforce to stay home without pay one day a month for 12 months. The first day is scheduled for next week.
The Governor said there is no other option. He said he would consider other ideas if they could also save $22 million. He said the state can't lay off anymore employees since positions were cut last year and he has ruled out a tax increase.
Essential employees, including prison guards and state police, will work on these days.
Rhode Island isn't the first state to make this kind of move. At least 19 other states have furloughed employees or considered doing so in order to survive the current economic crisis.
In Maryland, state employees will be forced to take as many as 10 days without pay and 200 will be fired and left to spend every day off until they can find another job.
And in California, state employees had been forced to take every other Friday off and a third Friday was added to that this summer.
The workload presumably remains the same as people are getting a day less of pay. Probably doesn't do much for morale.
Here's my question to you: Should periodic government shutdowns become a permanent way to save money?
Interested to know which ones made it on air?