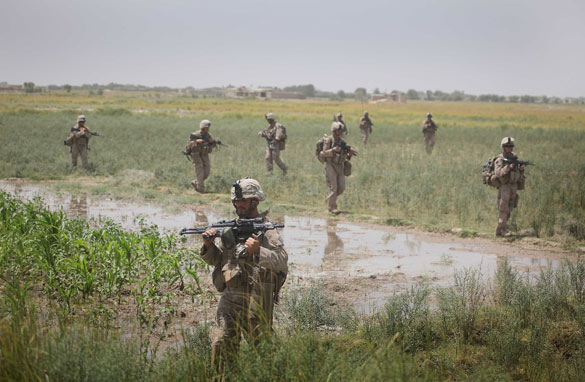 (PHOTO CREDIT: GETTY IMAGES)
FROM CNN's Jack Cafferty:
More bad news about the war in Afghanistan. Military commanders say they don't have enough troops and warn that the Taliban is getting stronger and even gaining the upper hand in several parts of country. The Chairman of the Joint Chiefs of Staff, Admiral Mike Mullen, says, "It's serious and it's deteriorating."
Case in point, last week's election, which was only the second in the nation's history. The ballots are still being counted, results are expected tomorrow, but we already know voter turnout was low amid threats of violence. There are reports of voters' fingers being cut off. More than 200 complaints have been filed with The Election Complaints Commission, and one of the candidates is alleging fraud.
History shows a long list of failed foreign incursions into Afghanistan. So the U.S. may be taking a spot behind the Greeks, the British, and the Russians, who have all come before them-and left defeated.
For now, the Obama Administration is waiting for a new report on the situation (due out in two weeks) from the top commander in the region. Regardless of what it says, troop levels by the end of this year are on track to be double the number there at the end of last year.
In March, President Obama ordered an additional 17,000 troops into Afghanistan, but all indications are it's not nearly enough. Meanwhile, public support here at home for a war that is going on eight years is hardly increasing.
Here's my question to you: Is it time to declare the war in Afghanistan a lost cause and get out?
Interested to know which ones made it on air?
Harold from Anchorage, Alaska writes:
Not until all opium poppy fields have been sprayed with persistent defoliants; besides poisoning our youth, the drug trade is the primary source of finance for Taliban, in spite of Islamic law against it.
Mikey from Alexandria, Virginia writes:
Having spent 3 tours in Afghanistan I can only say that the aftermath of leaving with our tails between our legs will only make things worse. If you read Osama Bin Laden's declaration of war against the United States, part of what encouraged them was when we left with our tails between our legs from Somalia. If you want to embolden those who wish to kill us no matter what, then sure, why not? After all, most Americans don't have a clue anyways. I'm speaking a different language I'm sure. Nothing to see here, just go back to your mocha lattes, play stations and reality TV. Semper Fi.
Dave from New Hampshire writes:
Yes! The way the terrorists fight a war is to simply bankrupt their opponents. At least Russia was smart enough to realize this and get the hell out!
Evan from Phoenix, Arizona writes:
Jack, We do not have the luxury of simply declaring Afghanistan a loss and pulling up stakes. Al-Qaeda and the Taliban executed history's deadliest attack on American soil and continue to perpetrate acts of violence across the globe. If they were to gain control of Pakistan's nuclear arsenal it would be a nightmare come to life. We cannot quit. Adjust our tactics, pursue diplomacy and reconstruction, bring in our allies to help take up the slack, yes; leave Afghanistan to the extremists, never.
Steve from Portsmouth, New Hampshire writes:
Jack, are you crazy? At this point it would be a big mistake to walk away. 9-11 occurred because lawless places like Afghanistan exist where terrorists could train openly. We need to stick it out and finish was Bush started. President Obama did the right thing by sending in more troops but the international community also needs to put a little more skin in the game.
David from Gainesville, Virginia writes:
Absolutely not. Afghanistan was almost completely ignored for years while pursuing Bush's folly in Iraq. We have only been trying to regain control of the country for a few months. Give it time for our troops to do their job. This is the war that should have been fought from the beginning.