FROM CNN's Jack Cafferty:
Massachusetts Senator Ted Kennedy should step down because he can no longer do the job he was elected to do. Jeff Jacoby, in a column in the Boston Globe, points out this is through no fault of his own. The 77-year-old Kennedy is battling brain cancer.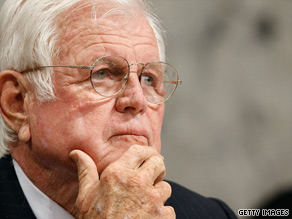 The details on his condition have been quiet, but he was too sick to attend the funeral of his sister, Eunice Kennedy Shriver, a couple of weeks ago.
Last week, Kennedy sent a letter requesting a change in Massachusetts law that would allow the Democratic Governor to name a successor to fill a senator's uncompleted term. This would lock in two Democratic votes from that state in the Senate should Kennedy be unable to vote himself.
The current state law calls for a special election to fill a vacated seat until the term is up but that could leave the seat unfilled for five months that would likely fall during a crucial vote on health care reform, which has been Kennedy's cause.
In the letter, Senator Kennedy said he wants his state leaders to change the law and permit a temporary appointment in the interest of the citizens of the state. Nice try, Senator.
In 2004, the law calling for a vacancy to be filled by someone appointed by the Governor was changed at the urging of Kennedy and others. At the time there was a Republican Governor and Democratic Senator John Kerry was running for President. The move was aimed at preventing a Republican Governor from appointing a Republican Senator to fill Kerry's seat if he had won.
Now the tables have turned and Kennedy wants the law changed back. Obviously the senator is not too sick to play some very raw politics.
Here's my question to you: Is it time for Massachusetts Senator Ted Kennedy to resign?
Interested to know which ones made it on air?
Albert from Los Angeles, California writes:
Jack, is this some kind of double standard? George W. Bush and Sarah Palin were never truly able to do the jobs they were elected to do. Ted Kennedy could be brain dead and do a better job than either of those two.
Ben from Boston, Massachusetts writes:
Jack, Sad to say, the Senator should have stepped down several months ago when it became clear that his health would prevent his fulfilling his duties in the Senate. There could have been a special election this fall, and a new Senator by the time of the health care vote.
Jason writes:
Can we say "term limits"? If they weren't so worried about getting re-elected they actually may vote with a clear head and make one or two intelligent choices on behalf of the rest of us. Anytime a legislator needs to purchase a home in or around D.C. because it's become their permanent home, it's time for them to leave office.
Annie from Atlanta, Georgia writes:
It sounds like he may be getting his ducks in a row to do just that. And why shouldn't he play raw politics for a lifelong cause? What's left of the GOP certainly has convened their army of mouth breathing knuckle draggers to scream against our best interests in favor of corporate profit, at any cost. Game on.
Jackie from Dallas, Texas writes:
That is not our decision to make, Jack. Senator Kennedy has constituents who have voted him into that office consistently for nine terms. He is noted for his ability to work with Republicans and to craft bills (more than 300) that have passed and become law. If nothing else, his advice should be sought on a lot of issues.
Jack from Nice, California writes:
Jack, I have all the respect in the world for Ted Kennedy but the shape this country is in, I think it would be a good time for everybody in Congress and the Senate to resign.