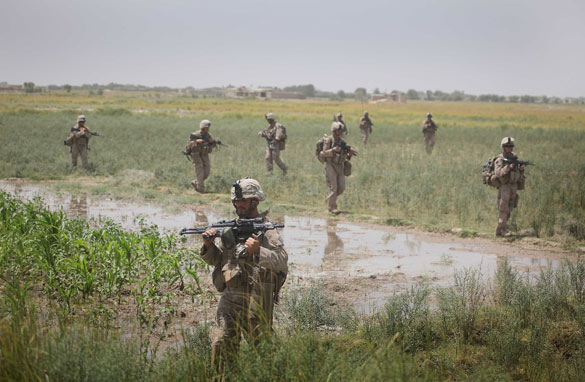 (PHOTO CREDIT: GETTY IMAGES)
FROM CNN's Jack Cafferty:
More bad news about the war in Afghanistan. Military commanders say they don't have enough troops and warn that the Taliban is getting stronger and even gaining the upper hand in several parts of country. The Chairman of the Joint Chiefs of Staff, Admiral Mike Mullen, says, "It's serious and it's deteriorating."
Case in point, last week's election, which was only the second in the nation's history. The ballots are still being counted, results are expected tomorrow, but we already know voter turnout was low amid threats of violence. There are reports of voters' fingers being cut off. More than 200 complaints have been filed with The Election Complaints Commission, and one of the candidates is alleging fraud.
History shows a long list of failed foreign incursions into Afghanistan. So the U.S. may be taking a spot behind the Greeks, the British, and the Russians, who have all come before them-and left defeated.
For now, the Obama Administration is waiting for a new report on the situation (due out in two weeks) from the top commander in the region. Regardless of what it says, troop levels by the end of this year are on track to be double the number there at the end of last year.
In March, President Obama ordered an additional 17,000 troops into Afghanistan, but all indications are it's not nearly enough. Meanwhile, public support here at home for a war that is going on eight years is hardly increasing.
Here's my question to you: Is it time to declare the war in Afghanistan a lost cause and get out?
Interested to know which ones made it on air?