FROM CNN's Jack Cafferty:
Former Secretary of Homeland Security, Tom Ridge, is taking his turn talking about his time served in George W. Bush's White House. In his new book, "The Test of Our Times," Ridge says he successfully squashed a plan to raise the nation's terror alert level to orange or "high," on the eve of the 2004 election.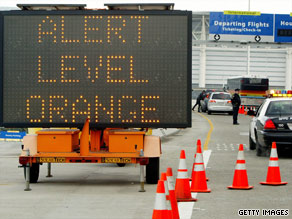 Ridge says the push from Secretary of Defense Donald Rumsfeld and Attorney General John Ashcroft was based on a pre-election message on tape from Osama bin Laden.
Ridge writes that he felt the message alone did not warrant the increased threat level and points out that there was no additional intelligence information indicating an increased likelihood of a terrorist attack. He also says increased security measures were already in place for the election. He writes, "I wondered, is this about security or politics?"
During the 2004 election one in five voters said terrorism was the most important issue to them, according to exit polls.
Ridge was able to help convince a group of other officials that there was no reason to cause what he calls, "undue public alarm" and in the end the threat level was not raised.
He said the incident was one of the major reasons he eventually decided to step down from public service.
Here's my question to you: Do you think the government would try to manipulate the public's fear of terrorism for political gain?
Interested to know which ones made it on air?
Gilbert writes:
Jack, Fear is the main tool of manipulation. Read Machiavelli's "The Prince." This is why it is necessary to keep the population ignorant and stupid. Feed them a steady diet of lies and b.s. and you can scare them any time you want. The Bush administration did it all the time.
Mary from Wisconsin writes:
What do you mean "would" the government do this? The Bush administration did this all the time, obviously. My question would be to Mr. Ridge: If you are such a patriot, great public servant and a good citizen, why did you save this story for your book? Why weren't you out the door screaming from the rooftops about this as soon as it happened so that these criminals didn't get re-elected?
Scott from Oklahoma writes:
The last administration did it and the current Obama administration has done it too. How many times have Obama administration folks tried to scare us about the economy, the banking system, the auto industry, health care, global warming? That is how administrations get things done, scare the people with some "great evil" then pass laws to remove the fear from people. What a great gig.
Tom from Newark, Delaware writes:
Jack, I think our leaders are too honest to pull that stunt. I don't think that the government would ever be so low as to claim that Iraq had WMD's in order to "manipulate the public's fear of terrorism for political gain" to justify going to war unless they knew for sure that the weapons were actually there!
Ken writes:
Of course the government uses fear as a political tactic. Not to compare our system to the Nazi regime but that's how Hitler and his cronies did it. However it worries me that we are at a point that we treat the question as a pun or laugh when in reality it is sad and dangerous for our elected officials to treat us in such a manner.
John writes:
Jack, did that just occur to you? I never understood why there should be a color coded system for how scared I should be. You're either under threat or your not. Why categorize it?