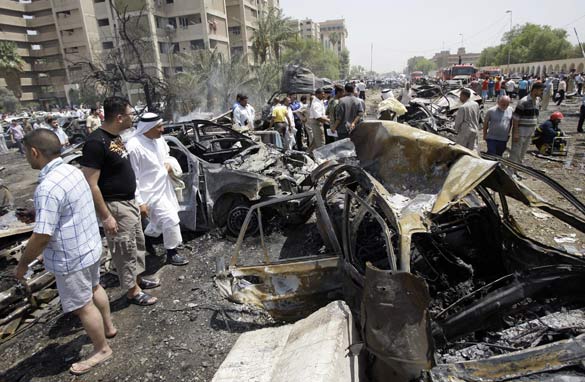 People gather at the scene of a massive explosion outside the foreign ministry in a residential area close to the Green Zone in central Baghdad yesterday. (PHOTO CREDIT: ALI AL-SAADI/AFP/Getty Images)
FROM CNN's Jack Cafferty:
The increasing violence in Iraq is raising new questions about the withdrawal of U.S. troops.
Insurgents launched six-bombings that struck Baghdad within an hour yesterday - two of them targeting official buildings. The attacks killed at least 100-people and wounded more than 500-others. It was the deadliest day since U.S. troops pulled out of Iraqi cities on June 30.
Prime Minister Nuri al-Maliki is blaming Sunni insurgents linked to al Qaeda in Iraq... and the government is making quick moves to crack down on security.
They're adding more checkpoints in Baghdad, tougher vehicle searches and random security stops. Also - they arrested 11 high-ranking security officials from the Iraqi army and police... detaining them for questioning.
The attacks - followed today by a bicycle bomb at a restaurant killing two more people - are a huge blow to the government's attempt to return life to normal. Al-Maliki had just recently ordered the reopening of streets in Baghdad and the removal of concrete blast walls from the capital's main roads.
Meanwhile - there are worries about what these coordinated attacks say about the Iraqis' readiness to keep the country secure... especially heading into the upcoming elections. It's exactly what everyone feared would start happening once the U.S. role in Iraq was reduced.
Pres. Obama has ordered all U.S. combat troops out of Iraq by next August... and all remaining troops out by the end of 2011.
Here's my question to you: How should the U.S. respond to the escalating violence in Iraq?
Interested to know which ones made it on air?
Kevin from California writes:
We need to admit that we can not stop a religious war between Sunni and Shiite Muslims that has been going on for 1,300 plus years and get the heck out of Iraq. Unless of course, we get all their oil.
Sam from Florida writes:
Jack, I know it sounds terrible but it seems like the only way Iraq runs smooth is under a dictatorship, like when Saddam was in charge. I can remember when our leaders saw nothing wrong with the way Iraq was being governed, as long as Iraq was at war with Iran… I think our military should leave Iraq and don't look back. If the Iraqi government can't take care of its problems by now, maybe it is going to take a civil war in that country to see who will prevail.
B. writes:
Jack, Iraq is a sovereign nation. We should respect that and stay out of their affairs. Obama has specified our exit schedule. We should stick to it, or accelerate it.
A.P. writes:
Don't we have enough problems back at home instead of worrying about problems in Iraq?
Skyler in Iraq writes:
Jack, I'm commenting from Iraq at the moment… I can tell you from experience doing multiple tours as an Intelligence Analyst, I see and brief these kinds of 'increases or decreases' in enemy activity… There is no doubt about the attacks that occurred recently but we must keep in mind that the Iraqi security forces have shown their capability and willingness to keep stability within their respective districts/cities.… At this point they should be left to do the job they are highly capable of conducting.
Darren writes:
We've already done enough damage there. We should continue withdrawing our troops and let them get back to their civil war, which we interrupted back in 2003.