FROM CNN's Jack Cafferty:
President Obama and the Democrats may end up going it alone when it comes to health care reform. Democrats say they now see little chance of getting Republican support - and point to lawmakers like Senator Charles Grassley, who they say aren't serious about striking a deal.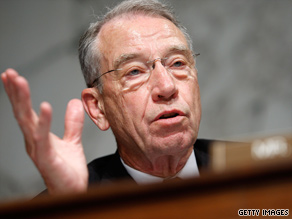 Republican Sen. Charles Grassley of Iowa is negotiating bipartisan health care legislation.
The administration says it had hoped to get bipartisan backing - but it's looking less likely. Instead, they would have to get moderate and conservative Democrats on board.
Party leaders in the Senate may wind up using a tactic where they only need 51-votes to pass a health care bill... instead of 60. One Republican warns if the Democrats go this route - it would be "like a declaration of war."
Going it alone has pros and cons for the Democrats... It could mean crafting the bill they really want. For example, the public option, which the White House appeared to be abandoning this week, would likely be back on the table.
However, pushing legislation through without Republican support could also be risky, as the GOP might call it a power play and say they were merely opposing a bill that the public disliked. One recent poll shows nearly 60-percent of registered voters oppose passing a health care bill without bipartisan support.
But the White House doesn't seem too worried... one official tells CNN "If we have to push it through this way, no one is going to remember how messy it was... a win is a win."
Here's my question to you: When it comes to health care reform, should the Democrats just go it alone?
Interested to know which ones made it on air?
Steve writes:
Absolutely! The Republicans never cared about health reform. The only thing they know about Benjamin Franklin is that he's on a hundred dollar bill. They're not going to vote for anything this president proposes, no matter how beneficial. This is all about destroying Obama's presidency, and unfortunately there are enough suckers in this country to do their dirty work.
Marilyn from Nashville, Tennessee writes:
Democrats should go it alone. The president has bent over backwards to include the Republicans. So far, the right has no plan, no platform, no strategy, no cooperation, no integrity and no truth - to say nothing of no concern for the citizens of this country.
JW from Atlanta writes:
No. If the package doesn't fly with bipartisan support, it should be postponed and rethought. The problem in health care is cost, and tort reform plus product pricing have to be addressed in a big way. We can't afford any political shenanigans on this matter. Best to cool down and try again later.
Bobby from Smyrna, Georgia writes:
The president and the Democratic-controlled House and Senate have no choice. Republicans never intended to help reform health care. After all, what did the Republicans do about health care reform when they controlled the White House and both chambers of Congress from 2001-2006? Absolutely nothing.
Rich in New Jersey writes:
Jack, I used to be a Republican, but no more. Think about the title "health care reform." How can that be bad? My wife and I have our own small business. Our medical insurance premiums are $14,000 a year. Between co-pays and a high deductible, figure $20,000 a year. The Republicans were Country First. What happened to that?
Frankie writes:
Bipartisan support has become a luxury, while health care reform is an urgently needed necessity.