FROM CNN's Jack Cafferty:
Bad drivers, beware... USA Today reports that several states are trying to cut down on bad drivers by going after so-called super speeders, lane hogs and drivers with multiple moving violations.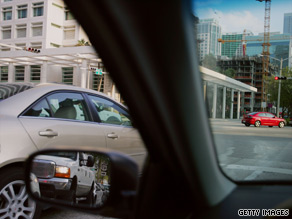 Turns out aggressive drivers may kill more people than drunk drivers... With a recent AAA study finding that things like speeding, tailgating, weaving in and out of traffic, etc. were a factor in 56-percent of all crashes.
So states are cracking down...
In Florida, the worst drivers will have to go back to driving school. A driver who is found at fault in three-crashes over three-years will have to pass a driver's ed course and a road test - just like a beginning driver.
In Georgia, super speeders will be fined an extra $200. This applies to all drivers going faster than 75 mph on two-lane roads - or faster than 85 mph on any road. The new fine is expected to generate $23 million a year - sounds like an idea a lot of states could use to raise some much-needed cash.
In Kansas, the new Right Lane Law makes it illegal to drive in the far left lane, unless you're passing or turning left.
Also - Other states have launched campaigns against aggressive driving trying to reduce road rage; and officers have been targeting drunken drivers, speeders and those not wearing seat belts.
Here's my question to you: What's the best way to put the brakes on bad driving?
Interested to know which ones made it on air?
Dave from New Hampshire writes:
Jack, I get so sick of hearing about the danger of using cell phones while driving. It would be so easy to design a car that would block the use of a phone by the driver while the car is in anything but park! We have the technology to do this. The only reason it's not being done is because the lobbyists would be in an uproar about how this would cut into the profits of the phone companies. Money is more important than lives, haven't ya heard?
Keith writes:
Anyone with a lawyer automatically gets their ticket reduced. They are in bed with the court. Get rid of this arrangement. How does a speeding ticket end up becoming a failure to use a turn signal? Why does a card from your pal the cop act as a get-out-of-jail-free card? We need a stronger police presence, increased fines, and no institutionalized leniency from the police, court, and lawyers.
Dave writes:
Jack, Easy: Camera then tickets. One ticket in the mail for a few hundred dollars will make a believer out of you. It did me.
Tom from Toronto writes:
Jack, That's nothing! In Toronto, Ontario, the fine for speeding over 150 kilometers/hour (approx. 95 miles/hr) is a fine of $10,000, your license revoked and car impounded on the spot. It's advertised on sign along the highways, and seems to be working.
Sue from Redwood City, California writes:
Having someone go back to traffic school if they caused 3 crashes in 3 years is insane! I think there needs to be a "3 strikes, you're out" law and their licenses should be taken away forever.
Dennis from Boulder, Colorado writes:
Jack, Isn't it ironic that the young, who have long lives in front of them, are in such a rush, and the old, who don't have as much time left, are in no hurry to get somewhere?