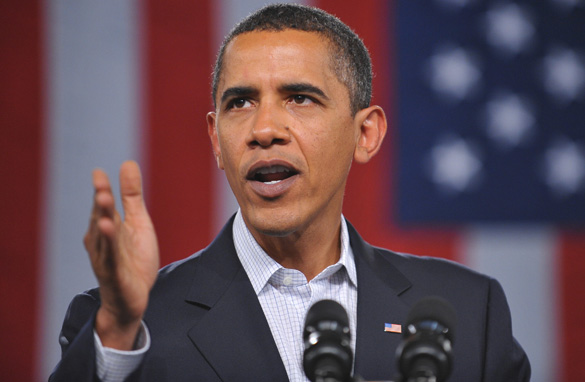 (PHOTO CREDIT: GETTY IMAGES)
FROM CNN's Jack Cafferty:
"Could Hillary Clinton have been right about Barack Obama?"
That's a quote from a Politico piece titled "Does Obama have the guts?" In it, Roger Simon reminds us how during the campaign, Clinton warned voters that Obama gave great speeches, but lacked the strength, toughness and will to get the job done.
Well, Americans will now get to see how President Obama governs when it comes to a divisive issue like health care reform. Even though there are many critics, will he push through on the public option - which is probably the best way to compete with the insurance industry?
And it's not just about health care... Some suggest the president is beginning to appear weak and wishy-washy on a range of issues - from gays in the military to immigration reform to apologizing to foreign countries, etc.
At times, the president appears to be ineffective at even leading his own party - as the Democrats wander around like a gaggle of unruly children. Mr. Obama ought to call a meeting of the Democratic leadership and tell them, "Look, I am the boss. If you don't like that idea, there are ways I can make your life miserable... especially when it comes time for re-election."
After all, there is something to be said for declaring: "I am the decider." President Bush may not have been our smartest president, but he made an effort to communicate that he was running the country.
President Obama is many things, including articulate, smart, polite, a gentleman... but can he govern when the going gets tough?
Here's my question to you: Is President Obama tough enough for the job?
Interested to know which ones made it on air?