FROM CNN's Jack Cafferty:
There are growing signs that President Obama may be willing to drop one of the key parts of his health care reform plan. If it happens, chalk up a big victory for the Republicans and the insurance companies.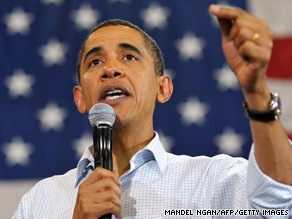 After weeks of criticism against a proposed government-run insurance plan - and the increasingly rowdy town hall meetings - the president now says the public option for coverage is just a sliver of the overall proposal. But it's a big sliver - especially politically.
Health and Human Services Secretary Kathleen Sebelius has gone further - saying a direct government role in the reformed system is "not the essential element." Sebelius says "what's important is choice and competition." One option that may replace the idea of the government running health care is nonprofit health cooperatives that would compete with the private sector.
If the president decides to drop the "public option" it has the potential to both help and hurt him in the ongoing debate. Mr. Obama would take away some of the steam from the Republicans' cries of "a government takeover" of health care. It also leaves room for compromise and potentially getting some Republicans on board.
But, the president risks alienating liberals. Already some top Democrats, like former party chairman Howard Dean, are saying that any health care reform plan must include the public option. One Democratic congressman insists leaving private insurance companies in charge of controlling health care costs is "like making a pyromaniac the fire chief."
Here's my question to you: What does it mean If President Obama is willing to retreat on health care?
Tune in to the Situation Room at 5pm to see if Jack reads your answer on air.
And, we love to know where you're writing from, so please include your city and state with your comment.
Interested to know which ones made it on air?
Ramon from Santa Clara, Calif. writes:
It means President Obama is willing to sell out millions of his supporters so he can placate a handful of senators who are in bed with the insurance industry. For goodness sakes, can the Democrats ever win? I thought we did last November. This isn't the change we voted for. It's pathetic.
Chris writes:
It's a victory for the Republicans and the insurance companies only if you are operating under the assumption that Americans cannot hear an argument and make an intelligent choice as to which side of a debate makes the most sense to them. Obama's willingness to drop a public option has nothing to do with the Republicans or the insurance companies (in theory, he needs neither to get his agenda passed). It has everything to do with the average American's trepidation over the size and overreaching nature of this reform.
Joseph writes:
It means the Democratic Party has no backbone. They have a full majority in the House and the Senate and can't even pass a piece of mainstream Democratic health care legislation, which in my opinion is why we gave them control of both houses in the first place. If they don't pass a public option in this health care reform bill, I give up on anything important ever getting done in this country that will bring real change.
Albert from Los Angeles writes:
If Obama ducks from the Republican lies about health care, it will leave an enduring image similar to when Bush ducked from that shoe thrown at him – a target. Obama should force Republicans to a filibuster. The congressional record will then set the record straight about the identity of the "death panel" who unplugged grandma when her Medicare coverage, and our nation, soon goes broke: the Republican Party!
R.J. writes:
What does it mean if Obama backtracks on the public option? That's simple: It means he's a one-term president.