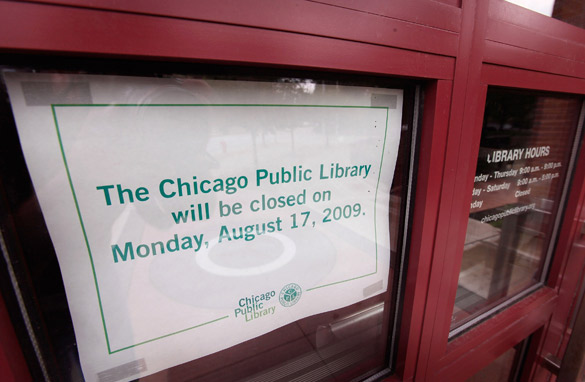 (PHOTO CREDIT: Scott Olson/GETTY IMAGES)
FROM CNN's Jack Cafferty:
The city of Chicago is mostly closed for business today... as a way to save money.
Most city employees are off without pay. Emergency services like the police and fire department aren't affected; but city hall, public libraries, garbage pickup, health clinics and other city offices are closed.
Chicago is facing an estimated budget shortfall of about $250 million to $300 million for 2009... so as part of the budget, the city included three reduced-service days. The other two are the Friday after Thanksgiving and Christmas Eve.
The city anticipates these reduced service days will save more than $8 million.
But city workers are losing more than just the pay for these three-days. They've also been asked to take six furlough days and six unpaid holidays this year.
Mayor Richard Daley says every dollar the city saves from these measures "helps to save jobs, and in the long-term, maintain services for Chicagoans." He thanked city employees for making the sacrifice and being "part of the solution" to the budget challenges. The employees weren't given any choice.
But some city workers say they don't mind taking the unpaid days if it means holding on to their jobs in the long-run.
Here's my question to you: Should government employees be forced to take time off without pay as a way of saving money?
Tune in to the Situation Room at 4pm to see if Jack reads your answer on air.
And, we love to know where you're writing from, so please include your city and state with your comment.
Interested to know which ones made it on air?