FROM CNN's Jack Cafferty:
The protests at town hall meetings on health care reform continue to get louder and more violent.
One event in Tampa, Florida, got particularly ugly... with hecklers and people pushing and shoving. As the Democratic congresswoman addressed the crowd - people chanted "read the bill" and "tyranny."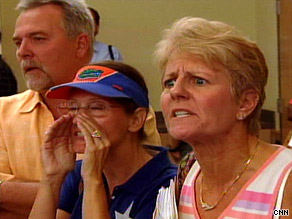 Hundreds couldn't even get into the meeting - as demonstrators on both side of the debate shouted at one other.
In St. Louis - there are reports that six people were arrested after health care protests broke out at what was supposed to be a forum on aging held by a Democratic congressman.
House Speaker Nancy Pelosi was even at the center of about 200 protesters in Denver where she was visiting a homeless clinic. The crowd was loud, but orderly - about half supported the reform and half opposed it.
Pelosi and other Democrats insist these protests at meetings sponsored by Democrats won't derail health care reform once Congress gets back to work next month. Democrats have been accusing Republicans and special interest groups of orchestrating many of these demonstrations. Some liberal groups have started sending their own supporters detailed instructions on how to counter what they called organized disruptions.
Republicans insist the opposition is legitimate and coming from the people. Conservative groups are telling their supporters where to find upcoming town hall meetings. They're sending them confrontational questions to ask members of Congress... and chants and slogans to use when they get there.
Here's my question to you: Will increasingly loud and violent town hall protests succeed in killing health care reform?
Interested to know which ones made it on air?
Steve from Tampa, Florida writes:
The protesters at the town hall meeting last night were only there to be disruptive. They wouldn't even stay silent long enough to allow Rep. Kathy Castor the courtesy to speak. Democracy is about listening to both sides of an issue and forming your own opinion. I'm a conservative, but this was embarrassing.
Curly from Ashland, Wisconsin writes:
I do not condone loud and violent protests, but when the elected officials do not listen to the voices of the people, they sometimes have to get their attention. The Washington establishment hasn't listened to the voices of the people for many years and they are getting tired of not being heard.
Donnie from Canada writes:
All these protests just show how much Americans do not understand health care. In Canada, we have a great system. Yes, we have to wait sometimes but not for emergencies. I have had a broken leg and two cancer surgeries that would have cost me over $50,000 and I never paid a cent. And, my taxes stayed the same under a public system. Grow up, America.
Corey writes:
Jack, I think the reason for these protests, as childish as they may be, is because the president is not doing a good job of explaining this plan. He continues to say it is different but he does not say how. People need answers.
Mary Ann writes:
No, it will not! Compare health care reform to the civil rights legislation in the 1960s. Any comprehensive change comes with growing pains, just as we are seeing today.
Frank from Philadelphia writes:
I don't think that it will stop health care reform; it may have the opposite result. The protesters put nothing on the table and sound like a bunch of screeching idiots. Stopping debate will not solve the problem.