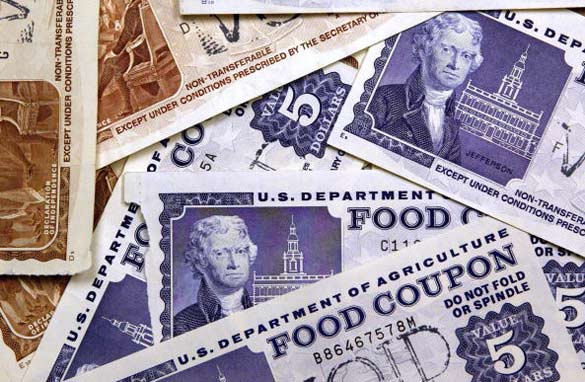 Traditional food stamps like the ones pictured here are no longer distributed. All 50 states now provide debit-style EBT cards. (PHOTO CREDIT: TIM BOYLE/GETTY IMAGES)
FROM CNN's Jack Cafferty:
A record 34 million Americans are getting food stamps...
This translates to 1 in 9 people and is yet another sign that we're going through the worst recession since the Great Depression.
A government report shows May was the sixth month in a row that food stamp enrollment increased - it was up in every state - with Florida showing the largest jump.
The economic stimulus package has temporarily increased food stamp benefits - with the average now about $134 per person per month.
Although Americans everywhere are clearly hurting - the city of Detroit, Michigan, has been hit especially hard. CNNMoney.com has a sad story about the lack of food in a city where unemployment has topped 16-percent.
Food stamp applications and pantry visits are way up; in some neighborhoods, there are people guarding food supplies. Those looking to help have even resorted to urban farming.
What's especially troubling about this recession in a place like Detroit is the kind of people looking for assistance. It's no longer just the homeless and poor, but now also the middle class... those who maybe lost jobs in the auto industry or home owners who saw the value of their homes evaporate.
Although we're seeing some positive news on the job front nationally today... it's clear millions of Americans will continue to feel the pain of this recession for a long time.
Here's my question to you: What does it mean when 1 in 9 Americans is receiving food stamps?
Interested to know which ones made it on air?