FROM CNN's Jack Cafferty:
As the country struggles with the worst recession since the Great Depression and millions of Americans look for work– Congress is getting ready to spend some big bucks on private jets for itself.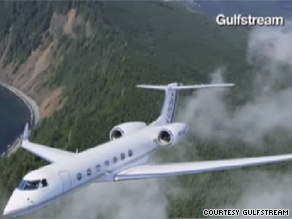 The House has approved almost $200 million to buy three brand new Gulfstream jets - two of them meant for members of Congress and other top government officials. These jets can fly faster than 600-miles an hour; and can go non-stop from Washington to as far as China or Japan without refueling.
The Pentagon only requested one of these jets. But the House Appropriations Committee decided to add two additional planes - saying they should be assigned to the DC area.
Reports say the funding for these Gulfstream jets was pushed through by two members of the committee - both from Georgia, where they are made. One of these congressmen tells ABC News that buying the jets "supports local industry" and will mean jobs for his constituents.
A congressional staffer defends the move saying the military was already looking to update its fleet. And some experts say the jets may be more expensive, but they're worth it because they're more secure and efficient for VIPs.
Critics say members of Congress are a bunch of hypocrites. Remember how lawmakers blasted the auto CEOs when they flew into DC on their private jets last year asking for bailout money?
Here's my question to you: What message does it send that during the recession Congress is ordering new jets for itself?
Interested to know which ones made it on air?
Bob from Southfield, Michigan writes:
Screw the Georgia politicians. I'm from Michigan and I think if they need transportation they ought to ride in cars made in Michigan to create jobs here. No private corporate planes for the Congress; buy a plane ticket and pretend you're an executive in the auto industry.
Gerald writes:
We could buy a lot of health care with the extra jets that the Pentagon doesn't want. The Pentagon only ordered one. Someone in Congress is again lining their pockets in their district where these planes are built and sold.
B from North Carolina writes:
The message I get is that we need to vote a few more of them out. Until they learn to fear our votes, we'll be nothing more than a source of income to them – and we're not as lucrative as contracts, insurance companies, etc. Vote!
Rus from Minnesota writes:
Jack, I'm not sure what offends me more: members of the House using tax money for votes in their district, spending money that wasn't requested to be spent when we have a trillion dollar deficit, or trying to get us to conserve energy while buying private jets instead of flying commercial.
Chad from Wisconsin writes:
The message here is that Americans are much too complacent. With all the outrageous things we have seen in the news, including the war and the Wall Street bailout scandal, Congress seems to have realized that business as usual will always follow the now-frequent knife jabs in the taxpayers' sides. As a result, it's an all out free-for-all in Washington. And we elected them too.
Tom from Ft. Lauderdale, Florida writes:
Jack, Sounds like the jets are a great idea. How does the general public book these flights?