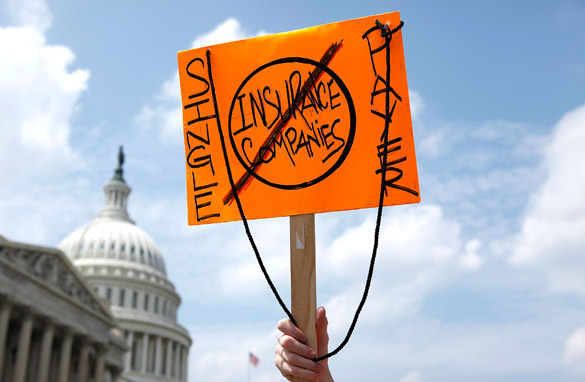 (PHOTO CREDIT: GETTY IMAGES)
FROM CNN's Jack Cafferty:
Depending on who you ask - the protests against health care reform may or may not be the real thing.
Democrats and the White House claim these sometimes rowdy protests that have disrupted meetings and health care events around the country are mostly orchestrated by insurers, lobbyists and Republican activists. They're accusing the GOP of organizing "angry mobs" and trying to destroy President Obama.
Nancy Pelosi even claims protesters are "carrying swastikas and symbols like that" to these meetings.
But Republicans insists these protests are just a sign of real opposition and frustration about the president's health care plan... they say the protests are part of a ground-level movement.
Republican Party Chairman Michael Steele says "We're not inciting anyone to go out and disrupt anything." Steele calls the Democrats' claims "a bunch of baloney" and says there's no upside for the Republican Party in the protests.
Meanwhile - a new CNN/Opinion Research Corporation poll shows the nation is pretty evenly divided over the president's health care plan - with 50-percent supporting it and 45-percent opposed.
The poll also shows that more than half of Americans have strong feelings about this debate... with one-third saying they strongly oppose Mr. Obama's plans and 23-percent saying they strongly favor them. The poll also suggests that those against the president's plan may be more motivated to attend town hall meetings than those who support it.
Here's my question to you: Are the protests against health care reform grass roots democracy or orchestrated opposition?
Interested to know which ones made it on air?
Billy from Las Vegas writes:
Michael Steele is full of baloney. These protests are no more "grass roots" than the so-called "tea parties" were. This is a well-financed, corporate-run campaign to disrupt any serious discussion of health care reform so the likes of United Healthcare, Blue Cross and the other "health care denial" companies can protect their business.
Charles writes:
The protesters at the town halls are real. I am sure a few are there to cause trouble, but a majority are furious about this obscene plan to socialize health care. Yesterday it came out that the plan would cover abortion on demand, making groups like Planned Parenthood rich and yet cutting service to seniors. Anyone looking at the plan should be outraged.
Arthur writes:
If this health care package is so great, why aren't elected officials leading the way, joining the public plan and dumping their private plans? This is a grass roots movement because these elitists are giving us a horrible plan, one they are avoiding for themselves. Mob, indeed. That is insulting to the people taking part in their government and adding their opinion. Isn't their health coverage paid for on our dime?
Charles from Lawrence, New Jersey writes:
These protests are political theater. The insurance industry has everything to lose with government run health care and will stop at nothing to prevent it. The GOP pursues politics and policy with the same "professionalism" because they are business cronies. Profiting from wants is the American way but profiting from needs is predatory dystopia run by corporate overlords.
Alexander from Lee's Summit, Missouri writes:
It doesn't matter if the protests are orchestrated or not, because either way they are legitimate. America was built on protests that were organized so I have no problem with the protests; the problem I do have is with the misbehavior of these protesters at the town hall meetings. Town halls are meant to share ideas, not to yell at those presenting them.