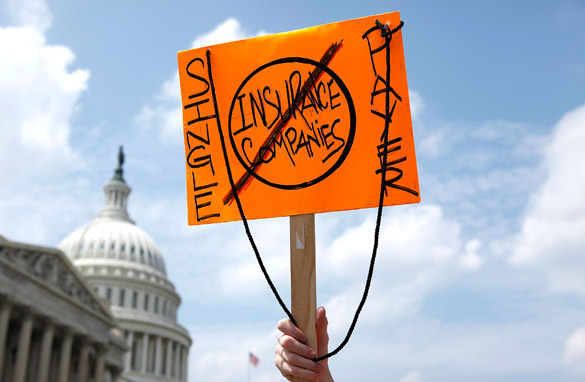 (PHOTO CREDIT: GETTY IMAGES)
FROM CNN's Jack Cafferty:
Depending on who you ask - the protests against health care reform may or may not be the real thing.
Democrats and the White House claim these sometimes rowdy protests that have disrupted meetings and health care events around the country are mostly orchestrated by insurers, lobbyists and Republican activists. They're accusing the GOP of organizing "angry mobs" and trying to destroy President Obama.
Nancy Pelosi even claims protesters are "carrying swastikas and symbols like that" to these meetings.
But Republicans insists these protests are just a sign of real opposition and frustration about the president's health care plan... they say the protests are part of a ground-level movement.
Republican Party Chairman Michael Steele says "We're not inciting anyone to go out and disrupt anything." Steele calls the Democrats' claims "a bunch of baloney" and says there's no upside for the Republican Party in the protests.
Meanwhile - a new CNN/Opinion Research Corporation poll shows the nation is pretty evenly divided over the president's health care plan - with 50-percent supporting it and 45-percent opposed.
The poll also shows that more than half of Americans have strong feelings about this debate... with one-third saying they strongly oppose Mr. Obama's plans and 23-percent saying they strongly favor them. The poll also suggests that those against the president's plan may be more motivated to attend town hall meetings than those who support it.
Here's my question to you: Are the protests against health care reform grass roots democracy or orchestrated opposition?
Interested to know which ones made it on air?